By Frank Raczon, Senior Editor | January 1, 2016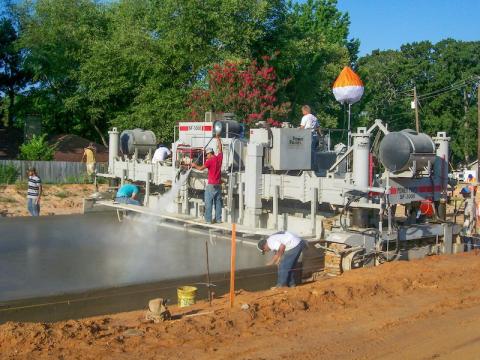 The biggest factor that affected the highway-class concrete paver market up to 2016 was the lack of a long-term highway bill. It's no secret that contractors don't like to plan major purchases, especially purchases as large as a slipform concrete paver, when they can't be certain how much work they'll have in the foreseeable future.
With the FAST Act now a reality, contractor purse strings may indeed open wider. But paver manufacturers didn't sit idle during the uncertainty. They continued to emphasize innovation.
One niche, airport paving, has been holding its own, as expansions are underway at some of the nation's largest airports. "The current market is flat to marginally up, if airport paving is included," says Wirtgen America's Tim Nash, director, Concrete Products.
"The market has been consistently inconsistent," says Stephen Bullock, VP of Sales & Marketing for Power Curbers and subsidiary Power Pavers. "Contractors were interested but were hesitant to pull the trigger without a highway bill in place."
Cost of Concrete Paver Ownership

Size Class (lb.)
Avg. Price
Hourly Rate*
19,000-27,999
$120,145
$74.59
28,000-39,999
$183,910
$106.43
40,000-54,999
$279,758
$155.50
55,000-96,999
$450,753
$273.88
97,000 and up
$573,302
$354.93

*Hourly rate represents the monthly ownership costs divided by 176, plus operating cost. Unit prices used in this calculation: diesel fuel, $2.78 per gallon; mechanic's wage at $52.33 per hour; and money costs at 2.125 percent.
Source: EquipmentWatch.com
Kevin Klein, VP of Engineering/Research & Development for GOMACO, points to having success with a customer base that's working smarter under current conditions. "We have been very fortunate at GOMACO, because contractors getting the work want the latest technology since they have to work smarter to make a profit," he says. "Our sales continue in an upward trend and all sizes have seen growth over the past five years."
The lack of a long-term highway bill or confident customers didn't kill R&D budgets. "The lack of a long-term highway bill created demand challenges, but we work on improving our machinery and adding to its productivity non-stop," Bullock says.
"Somebody once said that the time to fix the roof is when the sun is shining," Klein says. "In 2009, we ramped up research and development for product improvement and new product introduction rather than pulling back because of a lack of funding for transportation. We have been developing products for whitetopping, zero clearance, and the demands of airport paving, and we have been focusing on quality for high-volume paving operations and versatility of our products for smaller operators. We intend to be ready when the market does start to gain momentum."
In the midst of all the short-term transportation funding extensions, GOMACO readied for introduction a new series of pavers, which will kick off with a GP3 model at World of Concrete. The new series will be pegged to quicker and easier width changes, and smarter, more intuitive technology.
"Our new pavers are getting smarter for simplicity," Klein explains. "We call it simple sophistication with the G+ control system. The paver of today has to work with 3D guidance, smart accessories like transition adjustors, flying shoulders, and bar inserters. A Smart Paver provides accuracy in all of its functions and is user friendly and simple to operate. We have an intelligent control system, in G+, to make adjustments to the speed of a track and the radial configurations in steering that change when you are changing the width of a paver.
"It's a matter of making the paver simple to operate with the ability to meet today's tight paving specifications and expectations," Klein says. "We've designed the paver to make quicker and easier physical changes with fewer or no changes in the controls setup. The GP3 is programmed to do many functions smoother and better without the operator giving it any thought or attention. We plan to integrate much of the GP3 technology into other models in our product line."
Germany's Wirtgen also bet on concrete paving during uncertain funding times in the U.S., introducing its first full-lane concrete pavers here in 2013.
"For Wirtgen, as we are new to the North American concrete slipform paving market, innovations have been at the core of our strategy for market entrance," Nash explains.
"Generally speaking though, innovations are in part driven by a contractor's paving environment and its desire to always be as competitive and lean as possible, coupled with the manufacturer's philosophy and willingness to embrace that mission," he says. "One could easily make the argument that innovations are even more important in down years when bidding is at its most competitive."
As far as what was selling in the short-term funding interim world, at least one manufacturer named a "middle ground" that is sought out not as much for new roadwork, but for repairs. "Mid-size pavers have drawn the most interest largely due to the fact that they are well suited for the smaller rehab jobs that have become an important part of the market," Bullock says.
Nash names the 24- to 26-foot-width segment as the size that is the majority of the current market.
Features drawing the most interest include width-changing technology and control systems that enable stringless paving.
"The ability to changes widths quickly and easily is important, especially as contractors are moving more often from smaller job to smaller job," Bullock says.   "Having a machine with minimal downtime for width-changes is important to them. We've also seen a growing demand for stringless GPS and 3D paving."
Width changes are a big focus for Wirtgen, as well. "The reality of today's paving environment is that the days of pointing the paver in a direction and paving at the same width continuously are gone," Nash says. "The challenge that contractors face today, in addition to all of the traditional ones, is to keep productivity up despite discontinuous paving runs, frequent paving width change requirements, and coping with the need for continual paver mobilizations."
These factors have led manufacturers to hone in on certain items.
"Features such as smart steer for reduction of set-up time, the ability to mobilize the machine without having to drop off the mold or any of the attachments, dual telescoping frame capability, and mold designs that will allow for reduced paving width change times are central to most discussions," Nash says. "We are also seeing an increase in 3-D string-less control systems."
Klein cites versatility as a key market demand. "As it has been for many paving seasons now, versatility seems to be one of the best-selling features of our pavers," he says. "Width changes are being addressed with our paving molds and the slipform pavers, themselves. Project requirements and logistics are requiring our customers to make several small width changes in projects, as well as larger width changes at the end of the day for the next pour. We are continually engineering and designing for quicker and easier width changes."
Bullock advises buyers to keep it simple, especially those new to the category. "The first piece of advice I would offer someone entering the business is to find something operator friendly and easy to service. Sometimes in trying to do too much, manufacturers make their machines overly complicated and difficult to operate," he says.
Nash stresses understanding the jobs that lie ahead. "A slipform paver is a different animal from other types of equipment, such as rollers and earthmoving equipment, so first and foremost, it's imperative that the purchaser fully understands the job site requirements and what they need a machine to do for them," he says. "One paver configuration typically won't fit all possible paving scenarios.
"This will range from things such as paving width, clearance available for the machine, and any attachments that will be needed to do the job more competitively. Paving width change times, maneuverability and transportability might also factor in," Nash says.
Also, a manager shouldn't spend all his time on price.
"With regard to focus, it's a common mistake to try and oversimplify the research process with a very narrow criteria, often just price," Nash says. "It's imperative to give careful attention  to all four key categories of a slipform paving system, that is mold design, control system, tractor/frame design, and attachments.
"In many cases there are significant differences in each of these four areas among the various manufacturers, which can affect efficiency, increased productivity and overall competitive posture; that is to say, a contractor's long-term profitability."
Keeping costs low is a big factor in profitability, so concrete paver manufacturers also stress basics in keeping costs down. "Keeping the machine clean and greased is half the battle," says Power Pavers' Bullock. "Regular maintenance is time and money well spent versus expensive repairs that are often a result of a lack of machine care."
Nash calls out operating technique and agrees on paver cleanliness. "Adherence to recommended maintenance schedules, and use of best practice techniques in the overall paving operation are important," he says. "A contractor must be certain to not run vibrators when not submerged in concrete. And, simplest of all—yet where corners often are cut—staff should spend the extra time at the end of a paving run to thoroughly clean the machine, mold components and attachments."
GOMACO's Klein stresses that daily cleaning and maintenance go hand in hand. "Beyond the cleanup, normal scheduled maintenance should be performed as suggested by the manufacturer," he says. "It is also important to pull periodic oil samples of engine oil, gearbox oil and from the hydraulic systems. Watch for fluid contamination level changes to better understand when a system may be headed for a costly breakdown. With proper cleaning and maintenance, a slipform paver is designed to give many hours of service."