By Tom Berg, Truck Editor | July 18, 2016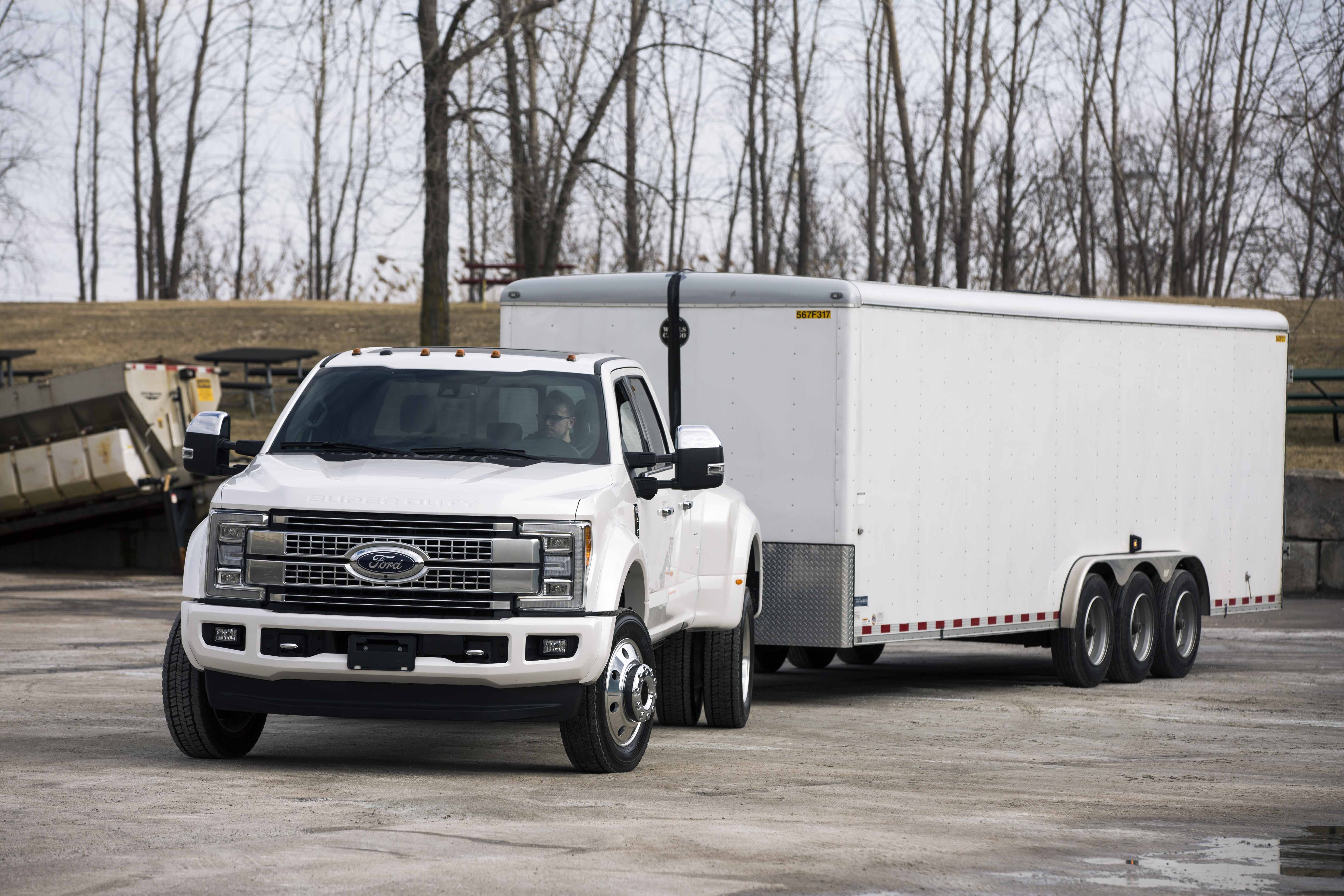 Buyers of Ford's 2017 F-Series Super Duty pickups will get lighter bodies and stronger frames, more engine power and torque, and more towing and hauling capability, the company announced on Monday.
"Smart" technologies, meanwhile, make towing, backing and monitoring trailers easier, Ford said. The new F-250 through F-450 pickups are due out this fall.
Military-grade aluminum alloy and high-strength steel help reduce weight by up to 350 pounds, depending on cab configuration, compared to earlier models, the announcement said. More robust components throughout the chassis also enable the higher hauling capacities.
The 6.7-liter Power Stroke V-8 turbo diesel boosts horsepower to 440 and torque to a class-leading 925 lb-ft for all F-250 to F-450 pickups, and the 6.2-liter V-8 gasoline engine torque goes to 430 lb-ft with 385 hp said Doug Scott, Ford's truck marketing manager.
"This is the best heavy-duty truck we've ever made," Scott said. "We listened to our customers and created the toughest, smartest and most capable Super Duty ever."
Foundational improvements for 2017 Super Duty pickups include fully boxed frame rails and redesigned crossmembers that are more than 95% high-strength steel, and up to 24 times stiffer than the previous frame to support increased towing and hauling. The new aluminum-alloy body is more dent and ding resistant than the previous steel body. 
Ford's F-450 Super Duty SuperCrew 4x4 now has a maximum gooseneck tow rating of 32,500 pounds – 1,290 pounds more than its nearest competitor, a regular cab two-door pickup, Scott said. Maximum fifth-wheel towing is increased to 27,500 – 2,500 pounds better than the nearest competitor.
Maximum conventional towing is increased to 21,000 pounds – 1,000 pounds better than the nearest competitors' trucks and without the need for a weight-distributing hitch, he said. Maximum conventional towing with F-250, with the new trailer-tow package, and F-350 single-rear wheel, are increased to 18,000 pounds.    
Maximum gross combined weight rating for truck and trailer now tops out at a class-leading 41,800 pounds. That is more than half the maximum weight of an 18-wheel tractor-trailer combination on most federal highways, he said.
Super Duty also offers adaptive cruise control and collision warning with brake support for heavy trailers, allowing drivers to traverse steep mountain grades while maintaining speed, even with a gooseneck trailer weighing 32,500 pounds.
A center high-mounted stop lamp camera provides visibility into the cargo box, which is especially helpful when hooking up gooseneck and fifth-wheel trailers. An Ultimate Trailer Tow Camera System uses four digital, high-definition cameras to give the driver a 360-degree bird's-eye view surrounding Super Duty.
Trailer Reverse Guidance provides visual cues and tips to help ease backing up a trailer. A factory-available trailer camera can be custom-placed on a trailer to further improve rearward visibility.
A Blind Spot Information System, or BLIS, with trailer tow includes the length of the trailer up to 33 feet long; BLIS uses radar sensors in the tail lamps to monitor areas that may not otherwise be visible to the driver. Tire pressures can be monitored from inside the cab while stopped or moving.
Maximum payload of the 2017 Super Duty F-350 is 7,630 pounds, which Scott said is more than any competitor. The F-250's maximum payload is 4,200 pounds, or 600 pounds over its nearest competitor.
Diesel and gasoline engines are mated to TorqShift six-speed SelectShift automatic transmissions. The F-250 pickup with the 6.2-liter gasoline V-8 gets a new TorqShift-G six-speed automatic for improved fuel economy and capability.