September 28, 2010
Foamed asphalt is a new cold-in-place road base recycling technology, which is offering public-works agencies new options for road-base stabilization and recycling.
The benefits of foamed asphalt-stabilized road bases are so compelling that the City of Los Angeles acquired its own road-base-recycling machine and has been using it to recycle asphalt roads.
Following an investigation into foamed asphalt technology, in late 2004 the L.A. Bureau of Street Services acquired a Wirtgen 2200 CR stabilizer/reclaimer to do foamed asphalt and other cold-in-place recycling. The city now cold-recycles failed asphalt roads in one pass, and follows with a surfacing of rubberized asphalt slurry seal.
Foamed asphalt enables contractors and state and local road agencies to undertake economical base stabilization. New foamed-asphalt technology stabilizes and improves the performance of existing road materials, producing high-quality base courses and cold mixes at the lowest possible cost.
Foamed asphalt — the product of the injection of a predetermined amount of cold water into hot penetration-grade asphalt in a series of individual expansion chambers in a base-recycling machine like the Wirtgen 2200 CR or WR 2500 S — replaces costly asphalt emulsions in base stabilization. The expanded asphalt has a resulting high surface area available for bonding with the aggregate, leading to a stable road base using 100 percent of the existing in-place materials. Unlike asphalt emulsions, foamed asphalt does not require a "break" period before it can be mixed.
And foamed asphalt technology is completely compatible with in-place recycling or crushing of degraded asphalt or gravel road wearing courses. After grading and compaction, this surface can support traffic immediately, but often is soon overlaid with a fresh, virgin wearing course. This in-situ base recycling and stabilization is the most common application of foamed asphalt throughout the world and North America.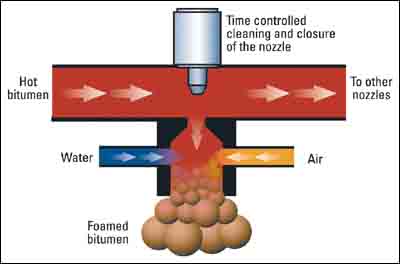 Other benefits include:
The recycled lift is more resistant to penetration of water.
Foamed asphalt-stabilized bases are usually less expensive than a bituminous emulsion or a combination of emulsion and cement.
Additional water is not added to the recycled material, as is necessary when emulsion is used.
The rapid strength gain from use of foamed emulsion means that traffic may be introduced onto the recycled road as soon as compaction is complete.