September 28, 2010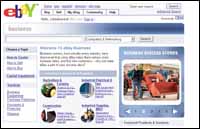 eBay has launched a free Business Equipment Purchase Protection Program for select business and industrial categories including construction equipment. The program protects buyers for up to $20,000 against fraud and material misrepresentation on qualified capital equipment purchases of $1,000 or more made on eBay in the United States.
"The launch of Business Equipment Purchase Protection is the latest step in taking eBay Business mainstream," said Patrick Jabal, director and general manager of eBay Business. "We're helping buyers understand that they can buy with confidence on eBay — even when it comes to major capital equipment purchases, and we're helping sellers by launching programs that will bring more buyers to their door."
So far this year, more than 10,000 capital-equipment items have sold on eBay, including a 2001 Caterpillar motor grader that sold for $184,100 and a 1994 John Deere tractor that sold for $27,600. In fact, eBay says more than 25,000 construction items are for sale on eBay.com at any given time.
In addition to its new program, eBay has introduced a new, redesigned business website at www.ebaybusiness.com. The site will make it easier for businesses to navigate by bringing together various eBay product listings for every business need along with relevant business services and tips for new users.