By Katie Weiler, Managing Editor | February 10, 2011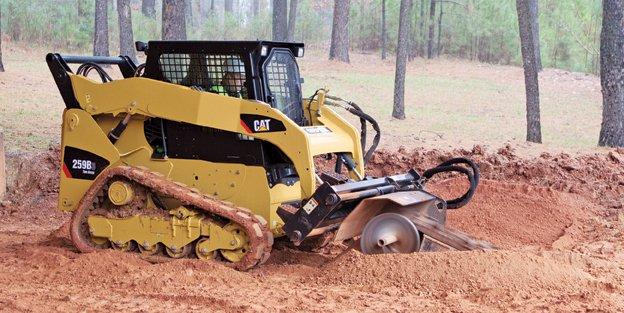 Billed as the only machine in its class with independent, fully suspended steel undercarriage, the 259B3 compact track loader comes equipped to tackle tough jobs in challenging spaces. Although it has a B3 designation (because the upper part of the machine matches the equivalent B3 skid steer), it is a new addition to the line.
One of its key features, the undercarriage uses four heavy-duty torsion axles that move independently to isolate the machine chassis from the undercarriage, thus absorbing any jolting effects of working in rough terrain. It also allows for smoother operation, better load retention, increased operator comfort and productivity, and extended machine life. The undercarriage also features steel embedded rubber track, triple-flange cast-iron rollers with Cat Duo-Cone seals, and recoil grease tensioning system similar to what is used on larger track-type tractors.
The 259B3 offers two track options: standard track width of 12.6 inches and optional track width of 15.7 inches, with ground pressure ratings of 6.0 and 5.0 psi, respectively. Two heavy-duty, two-speed hydraulic motors power the machine's final drives, which drive single-piece steel sprockets. According to Cat, the drive system and steel-embedded rubber tracks combine to provide 59 inches of track on ground to keep the machine moving productively in tough digging or dozing operations and in poor underfoot conditions. The unit offers standard two-speed travel system and a top speed of 8.5 mph.
Rated operating capacity for the loader is 2,065 pounds at 35 percent tipping load and 2,950 pounds at 50 percent tipping load. It features vertical-lift loader linkage, which provides 120 inches of lift height for easy truck loading and placement of materials. Hydraulic pumps for its implement and auxiliary systems are driven directly from the engine, which eliminates intermediate drive belts. For powering work tools, the auxiliary system supplies oil flow up to 22 gpm at pressures to 3,335 psi, generating a hydraulic-horsepower rating of 42.8. A high-efficiency hydraulic-oil cooler, along with a hydraulically driven cooling fan, keeps the machine working efficiently in high ambient temperatures, Cat says. An optional variable-speed, on-demand fan is also available.
Controls and comforts

A spacious operator's compartment comes with low-effort, pilot-control joysticks controlling lift-and-tilt functions, direction and speed, while providing precise proportional control of auxiliary-hydraulic functions. Also, optional deluxe joysticks offer control of work-tool electrical functions. Both joysticks allow one-touch control of continuous or intermittent auxiliary flow. Other cab features include high visibility, both to the work tool and the work site; easy-to-read instrument panels; ergonomic, padded armbar; and removable non-slip floor mat with foot rest.
Standard open ROPS canopy features top and rear windows and can be equipped with a cab door, side windows, suspension seat, heater and air conditioning. Hand and foot throttles come standard, and the unit can be programmed for constant-speed or varied-speed operation. It also has an anti-stall system to prevent engine stalling, even while operating at part throttle.