By Mike Anderson, Senior Editor | September 28, 2010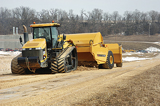 Iowa-based contractor C.J. Moyna & Sons had "dabbled" in the use of towed scrapers, but is now a confirmed user of the units made by sister company E-Ject Systems.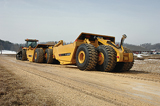 The use of towed scrapers has reduced the amount of big iron required by heavy grading contractor C.J. Moyna & Sons. The company says its efficiencies are "just phenomenal with fuel, labor and overall productivity."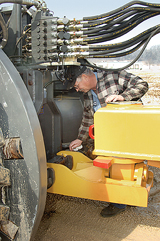 Dan Stewart, a 36-year veteran of C.J. Moyna & Sons, inspects a towed scraper attachment now at the core of his company's earthmoving fleet.
For C.J. Moyna & Sons, a concept too good to reject led to E-Ject.
Jason Marmann, equipment manager at the Elkader, Iowa, heavy grading and crushing contractor, didn't have to look far and wide for a solution to what he considered a costly way to move earth. E-Ject Systems, a sister company to C.J. Moyna & Sons, is the manufacturer of the towed scraper product that has since replaced a major portion of the fleet Marmann manages.
"At one time, we were up to 40 articulated trucks, the various support equipment such as excavators, dozers and so on, and 13 of the 631 motor scrapers," he said. "We're now down to around 20 articulated trucks, three wheel-tractor-scrapers and 40 towed scrapers with 20 Challengers pulling them.
"It's been a good shift. The work has changed a little bit that way, but the efficiencies are just phenomenal with fuel, labor and overall productivity. That's what's really driven our change."
For C.J. Moyna & Sons and the projects it takes on, the motivation behind the move essentially boils down to the differences in the characteristics of the two machine types, says Marmann.
"You can top-load a towed scraper; you can't push-load a truck," he explains. "If you watch the articulated truck and excavator work in good solid work, the towed scraper will just eat them up."
The company had "dabbled" in the use of towed scrapers in and around 2000, using smaller pans with agricultural tractors on some compact, residential-type projects, Marmann says. If the results were not yet evident, the potential indeed was, particularly with the increased carrier speeds of Challenger tractors.
"The concept was there," says Marmann. "We knew it would work for ourselves, and that sparked the manufacturing division into building the scrapers. We felt there was not a construction-grade scraper that was really efficient loading and unloading out there."
Since then, start-up E-Ject Systems has become a leading manufacturer of eject earthmoving pan scrapers as part of an extensive line of pull-type construction and agricultural equipment, which also includes disk harrows, sheepsfoot rollers, lube trucks, pup traileres and scarifiers.
At C.J. Moyna & Sons, the corresponding overhaul of the fleet has reduced the amount of big iron needed.
"You've now got one unit towing and loading and dumping, with fairly small support equipment in the fill and haul road," said Marmann, "against an articulated truck where you've got a fairly big excavator loading them (if you're being productive) and you're still hauling less material.
"If you look at a 40-ton truck, you're not competing anywhere near with what the towed scrapers are capable of hauling. So, at the end of the day, you get to look at the number of yards hauled by loads between the two; it's a pretty nice number. It cuts down your fuel consumption, your gallons per cubic yard.
"I don't want to get real specific in that, but it's tremendous."
C.J. Moyna & Sons' move away from articulated dump trucks to the pull scrapers began in '03/'04, and Marmann said the opportunities for work have grown since for the private company.
"It seems like there's some more advantages we've been able to pick up with the towed scrapers," he explains. "Shortening some hauls or also lengthening the hauls, the towed scraper doesn't seem to notice that. It's allowed us to use the same equipment in maybe two or three different niches, where before we had a truck operation for mud and closer haul, and motor scrapers for maybe a little harder material and longer haul."
Utilizing a patented material expulsion system that ejects rather than dumps, the E-Ject scrapers shine on both shorter- and longer-haul work, "giving us more ammunition" as a business, said Marmann.
"It's like everybody's business. You get lean and mean to compete," he said. "You've got to have that edge to go out there to bid work and be competitive."