September 29, 2016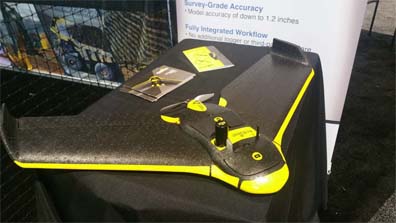 MINExpo is one of those tradeshows where attendees are constantly looking up and marveling at the sheer hugeness of the equipment displayed. This year's show, MINExpo 2016, provided Jeremiah Karpowicz, executive editor for Commercial UAV News, with an opportunity to find out how the mining industry views drone technology. Karpowicz found companies like Airware are rapidly expanding their product and service lines in response to interest from the mining, quarry and construction industries.
Imaging and analytic software systems compliment the drone hardware, creating terms like 'connected mines'. Karpowicz found the mining sector is as fascinated with drone technology as many other industries, especially when it comes to managing costs and production in the current volatile energy market.
Read Karpowicz' Drones, Data and Autonomous Solutions in the Mining Industry: 6 Takeaways from MINExpo 2016 here. He discusses the state of UAV usage in mining and reviews several products. His photos from the show are great, too.