By Tom Berg, Truck Editor | September 28, 2010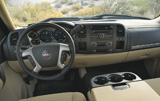 Pure Pickup interior is nice but not fancy. Gauges are easy to read, but HVAC switches are smallish push buttons. A big knob below the radio turns it on and off, and a small screen has images of other buttons for further tuning.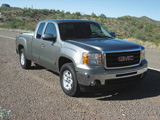 Driving on sometimes rough gravel was almost as smooth as on pavement, and with 4×4 and 2×4 configurations. New exterior styling is more obvious in person than in pictures, and there's more differentiation between GMC and Chevy versions.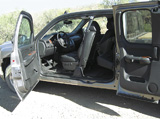 Rear-hinged back doors on Extended Cab open almost flat against the bed for easy loading and unloading.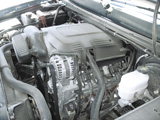 Vortec Max 6-liter V-8 has an aluminum block and various mechanical and electronic advancements. Maybe the neatest is Active Fuel Management, which turns the V-8 into a V-4 when power demand is low.
So there we were, barreling along a gravel road northwest of Phoenix, seeing if this new GMC Sierra pickup's suspension, frame, and steering really added up to the fine "driving experience" that General Motors executives had touted at dinner the night before. I was driving too fast down a short grade that ended in a dip over a culvert, but I braked gently and steered around some protruding rocks as we hit bottom at a halfway sane speed.
The truck's steering was steady, the suspensions fore and aft bore the sudden gravity-inspired load well, and all was in control. I don't know if my tense passengers saw things that way at that moment, but my driving partner and I both remarked repeatedly at how well the truck — this one and others we drove during this ride-and-drive event late last fall in Arizona — rode and handled.
The man in the back seat was an engineer who worked on development of the new-series chassis and in fine-tuning the shock absorbers. We complimented him on his work and meant it, because the new GMC and Chevrolet Silverado 1500 series pickups are noticeably nicer than the vehicles they replace.
The new trucks' ride on good pavement was likewise better controlled, as a stiffer frame resists flexing and makes the suspension springs do their jobs. That results in a smoother ride and less vibration of the kind you feel in your feet. There's less of that in the new trucks than in previous models.
And they have more "design." Bob Lutz, vice chairman of product development, has been pushing design — a synonym for styling — throughout GM's car and truck lines, and it shows. The trucks have been restyled inside and out, mostly for the better, but not always. Known internally as GMT900, the new series of light-duty pickups have bolder, chunkier looks that are more apparent in person than in pictures. The trucks are now on dealers' lots, and you won't have any trouble spotting them if you haven't already.
In some ways, the older models are better. They have large rotary switches to control HVAC functions and large push buttons on the radio. You can glance at them and immediately understand what they do, and operate them almost without looking. These were designed by ergonomics engineers, but those people now might be out on the street because new-school designers have fashioned stylish push buttons attractively arrayed in groups on the dash and driver's door. The new switches have to be studied, then picked out carefully while you're supposed to be watching the road.
An optional radio/navigation system includes a touch screen with images of push buttons and a keypad through which you can input street addresses. The system guides you to any destination with voice prompts while an icon on the screen shows progress along a road. Lost anyway? You can push the On Star button above the windshield and an operator will determine where you are by Global Positioning Satellite and give you directions.
Some folks might like these electronic niceties, but a long time ago I learned how to read printed maps and road signs and just get there — not that this keeps me from getting lost, including on one leg of this trip north of Phoenix. But I'd never order the nav system or its complex stereo radio/CD player, which I couldn't even figure out how to turn on. A simpler radio does include a large on/off/volume knob, but I still had to look hard at its LCD screen to figure out how to change stations, etc.
New side-view mirror controls, which are on the armrest on the driver's door, also require looking at to operate rather than simply feeling and manipulating, as with older electro-mechanical switches. As before, you can adjust the mirror glass for line of sight, and an additional pair of switches allow you to fold the mirrors flat against the door — a new feature that lets you get closer to a mail box or toll booth or whatever. But both mirrors, not just the one you need to get out of the way, fold or redeploy whether you want them to or not.
The new controls didn't bother my tech-savvy driving buddy, who chuckled at my consternation. But he agreed with another gripe, about an annoying lack of grab handles in the front-seat area. The driver has no assist handle except for the steering wheel's rim, and the passenger has only one, mounted above the window. GM's new pickups, even 4×4s, don't sit overly high, but it's still necessary for shorter folks to pull themselves in, and it's not easy with these trucks. On the other hand, in the rear-seat area of GM's Extended and Crew cabs, there are two handles at each door — one above the window and one on the B-pillar — making it easy for passengers to climb in.
Once inside, drivers and passengers should find the new interiors a pleasure to see and feel. The Luxury Inspired package includes a stack for the radio/nav system and HVAC controls, and that joins with a center console that includes an armrest with storage bins and several cup holders. Panels have rich-looking coverings, and the shifter on the console has nice brushed-metal trim.
The Pure Pickup package has a simpler, straight-across dashboard that looks like it belongs in a truck, and its plastic surfaces are nice without being fancy. Both have gobs of storage; for instance, there are two glove boxes in the dash in front of the passenger and, with the Pure Pickup setup, a bin under the manually adjusted seat. Got stuff? These trucks can stow it.
Wanna go? These trucks do, with either the 315-hp, 5.3-liter or 367-hp 6-liter V-8s. Both have Active Fuel Management, which cuts back to four cylinders under light load to save fuel, then back to eight when more power's needed. Two other engines, a 195-hp 4.3-liter V-6 and a 295-hp 4.8-liter V-8, are standard on base models.
The 6-liter Vortec Max is a new option, and raises towing capacities to as much 10,500 pounds — a level that most other competitors' half-ton pickups are now at or close to. Equipped with a special NHT trailer-towing suspension package, a new GM pickup feels very stable, and the engine pulls especially strong at 25 to 50 mph. The Max also propels a lightly loaded pickup with vigor, though it and the automatic transmission are so smooth that the acceleration sensation is underwhelming.
The Max has an aluminum block and cylinder heads, and it weighs about a hundred pounds less than a 6-liter V-8 with an iron block. The aluminum version is not built to lighten a pickup's front end — though it benefits a bit from this — but to put the truck in a slightly lower weight class where it more easily passes the Environmental Protection Agency's emissions tests, one engineer explained.
Competitors have 5- and 6-speed automatics in their trucks, but I think the 4-speed Hydra-matic — a 4L60 with the 5.3 V-8 and a 4L70 with the 6-liter — does a more than adequate job, as it never seems to cause the engine to lug or overrev, and it's wonderfully smooth. But more gears equal greater efficiency and the competition has to be answered, so GM's got a 6-speed in the works for this line of trucks.
Most folks these days buy light-duty pickups for personal use, which is why most new Silverados and Sierras, like their predecessors, will be sold with 4-door Extended or sedan-style Crew cabs. The rear seats on both fold up for storage of fragile or valuable items that shouldn't be left in the bed.
Adjustable securement devices for the bed are newly optional from the factory. Several types of aluminum rods and tool boxes can be mounted on bars on the beds' interior sides, and can be slid fore and aft to hem in loose cargo. The tool boxes slide for easy access but can still be locked in the bed. Drop-in plastic liners are also available. So these new pickups can do a lot of work.