November 14, 2017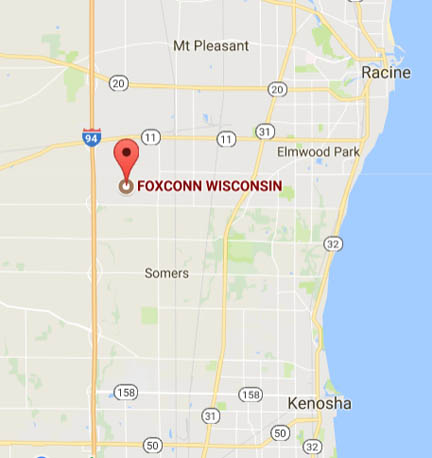 With the official signing of the biggest economic development deal in Wisconsin history last week, state highway planners are studying the possibility of including special lanes for driverless vehicles on I-94.
Word of the possible development came Monday from Tim Sheehy, president of the Metropolitan Milwaukee Association of Commerce, as he spoke at a meeting of the Greater Milwaukee Committee on the challenges the region faces in preparing for Foxconn, which will build LCD display panels in Racine County.
The Milwaukee Journal Sentinel reports state funds are already set to widen I-94 to eight lanes to help accommodate the Foxconn traffic, which will pull workers from Racine and Milwaukee, as well as facilitate transportation to Milwaukee's Mitchell International Airport.
Foxconn suggested an autonomous lane to and from the airport to the Foxconn plant. Michael Pyritz, spokesman for the Wisconsin Department of Transportation's southeast region said the process of evaluating and making final decisions on upgrades to I-94 and other roads near the planned Foxconn complex in Mount Pleasant "is a work in progress," with many options being weighed.
"It's on the table," he said of dedicated lanes for driverless vehicles, "but boy, there's a lot of stuff on the table."
The agreement between Wisconsin and Foxconn signed last Friday includes these provisions:
It requires minimum numbers of jobs for Foxconn to receive up to $2.85 billion in tax credits that state taxpayers would likely pay out in cash. Foxconn would have to meet minimum jobs numbers not only to get tax credits for spending on worker salaries but also to earn tax credits on its capital investment in the plant. 
To receive credits, Foxconn would have to hire a sharply escalating number of workers, starting with at least 260 next year and rising to at least 5,200 in 2022 and at least 10,400 by 2027. Foxconn would have to earn credits each year by meeting or beating these targets. 
To get the full tax credits and an additional $150 million in sales tax savings, Foxconn would have to spend at least $9 billion on the plant and essentially employ 13,000 workers from 2022 through 2032. 
The company would have to pay workers at least $30,000 a year for Foxconn to receive the credits. The average salary of the workers would also have to be $53,900 for Foxconn to receive the tax credits. 
Require Foxconn to hire an outside accounting firm chosen by WEDC to verify its spending on the plant and on workers' salaries. 
Allow the state to claw back up to 100% of its tax credit awards to Foxconn if the company lies to the state, moves the plant or shuts it down. Starting in 2023, the state could claw back up to $500 million if the company doesn't meet a minimum jobs threshold. 
 Foxconn's parent company, Hon Hai Precision Industry Co., will be responsible for 75% of clawback payments and Gou, its chairman, will be responsible for 25% through a private company he largely owns.