May 19, 2017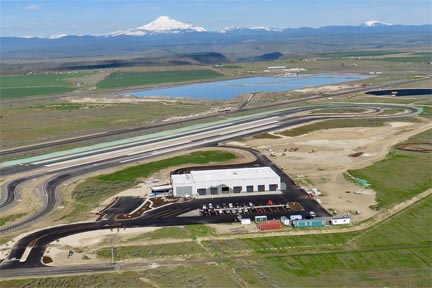 Daimler Trucks North America (DTNA) celebrated the completion and official opening of its new High Desert Proving Grounds in Madras, Oregon on Thursday.
The High Desert Proving Grounds is located approximately 120 miles southeast of DTNA's Portland Headquarters, giving the engineering team easy access to the testing facility. The route from Portland to Madras allows vehicles to be evaluated in real-world conditions because the route includes interstate, rural roads, and mountainous terrain through the Mount Hood pass.
The 87 acre High Desert Proving Grounds will evaluate the reliability, durability and fuel efficiency for Freightliner, Western Star, Thomas Built Buses and Freightliner Custom Chassis vehicles. The track will serve as a key component in the company's ongoing testing in the areas of truck platooning and autonomous vehicles.  
The test track is 3.5 miles of highly engineered surfaces that allow engineers to simulate a typical vehicle's full service life in approximately six months.
A 32,000 square foot office building will be home to up to 40 employees, the majority of which will be hired locally, with responsibility for both driving and test engineering. Additionally, there are 14 service bays for technicians to work on and inspect the fleet of durability test vehicles
 "Daimler Trucks North America is the undisputed leader of the North American commercial vehicle market.  That doesn't happen by accident; it takes countless hours of research and development, testing, and validation to engineer and deliver products that pace the industry in safety and fuel economy," said Roger Nielsen, president and CEO, Daimler Trucks North America. 
 "The opening of this facility will ensure the future reliability of our products, as well as expedite of future technologies that enhance our customers' bottom line." 
"The new High Desert Proving Grounds give our engineers the resources to rapidly and accurately evaluate advances in the areas of safety, fuel efficiency, and connectivity," said Wilfried Achenbach, senior vice president of engineering, Daimler Trucks North America.
DTNA invested $18.7 million in the proving grounds which took less than a year for contractor Kirby Nagelhout to complete.