June 13, 2018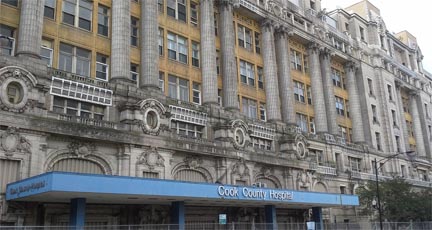 On the Near West side of Chicago stands a blocklong, grey, scowling building that overlooks the Eisenhower Expressway, waiting for the next ambulance to deliver another patient. Since 1916, Cook County Hospital's dual nature has supported indigent persons who could not find care at a private facility, while some of the most skilled surgeons and physicians trained new doctors at what was regarded as one of the world's great teaching hospitals. County's scientific innovations included the world's first blood bank and the surgical fixation of fractures. County has been vacant since 2002, a victim of Chicago-style politics and funding.
Now, 102 years after it first opened, the old 345,000-square-foot Beaux Arts structure is being refurbished and will house a dual-branded Hyatt House/Hyatt Place hotel slated to open in 2019.
The $1 billion redevelopment plan calls for about 210 hotel rooms. The building will initially include 70,000 square feet of medical space, 25,000 square feet of retail space, and a 4,000-square-foot museum recognizing the history of the old hospital.
The surround Near West Side supports a medical district which Cook County Board President Toni Preckwinkle hopes will be revitalized.
The total cost of the privately-funded project is estimated to be between $550 million and $700 million, though the developers hope to reduce the price tag with historic preservation tax credits.
Redevelopment is headed by the Civic Health Development Group, led by developer John T. Murphy, and includes Murphy Development Group, Walsh Investors, MB Real Estate, Plenary Group and Granite Companies, officials said at Tuesday's groundbreaking event. Walsh Construction is the contractor.   
image: Landmarks Illinois