September 28, 2010
This year, the world's big equipment gathering is Intermat 2003, which takes place May 13 to 17 at the Paris Nord Exhibition Centre in Paris, France. Construction Equipment previewed some of the new products that will be introduced there, and their significance to the world market. Manufacturers who will display them suggest that the show's international stature is growing.
The organizers expect 1,500 exhibitors to come from 34 countries. There's significant growth in the number of exhibitors of lifting equipment, components and accessories, and road-building machinery.
Half of the 210,000 visitors should be international. This expected increase of 20 percent in the number of international visitors suggests that the world is paying attention to Intermat.
Komatsu Builds a Bigger Skid-Steer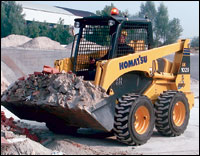 Komatsu will introduce the most powerful skid-steer loader in its range, the SK1020-5; and the first vertical-lift model, the SK818-5, at Intermat. Both machines feature Komatsu's closed load sensing hydraulics and two-speed drive systems. Engines will be available either naturally aspirated or turbocharged. The vertical-lifting SK818 has a lift capacity of more than 1,900 pounds (nearly 20 percent greater than with conventional loader-arm geometry).
Fast-Change System for Milling Drums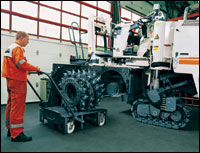 Wirtgen's fast-change system (FCS) for milling machines allows milling drums to be changed in about 2 hours. It's an option on the company's small W 600 DC; medium-class W 1000 F, W 1200 F and W 1300 F; large W 1900 and W 2000; and the W 2200. With FCS it's possible, for example, to mill a 36-inch-wide trench 12 inches deep with a W 1200 F in the morning, and to use the same machine to fine mill a working width of 48 inches with a tool spacing of 2½ inches in the afternoon.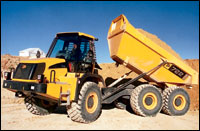 JCB is adding its first 6×6 articulated dump truck, the 22-ton Model 722, to its lineup. Two smaller models (at 14 and 18 tons) are both 4×4 machines. The 722 is powered by a 225-hp (gross) Cummins six-cylinder, through a ZF transmission and ZF axles. JCB also will add the 8080 excavator, designed to compete in the 15,000- to 17,000-pound class, with a boom that will swing to either side of its rotating house.
Will Deere Bring Bell's 55-ton ADT?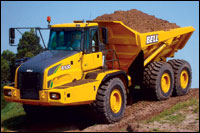 South African manufacturer Bell Equipment plans to launch what it claims is the world's first 55-ton, 6×6 articulated dump truck (ADT). The B50D is driven by the 470-hp Mercedes OM502LA diesel, a 16-liter V8, through a six-speed planetary transmission, a single-speed transfer box, and two-speed differentials. John Deere, which brands Bell trucks with its own name and owns North American marketing rights for the line, currently imports models with payloads up to 40 tons.
Hyundai Finishes Its Excavator Offer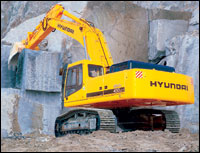 Hyundai will complete its Robex line of Dash 7 excavators with the 40-ton R360LC-7 and the 50-ton R450LC-7. The three-mode hydraulic system in the Dash 7 range allows operators to select general, heavy-duty and hammer modes. Engine and hydraulic management systems are linked electronically, giving the operator a choice of high or standard power settings. The system has a memory that can recall and repeat the operator's work patterns for specific tasks. Hyundai will also show the first of the Dash 7 wheel loaders at Intermat, the 20-ton HL760-7.
For more information, go to www.intermat.fr.