August 21, 2017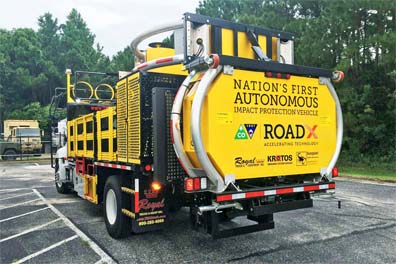 Last week, the Colorado Department of Transportation (CDOT) unveiled a first-of-its-kind work zone vehicle designed to advance safety for roadway maintenance crews.
Crash cushion trucks are customarily positioned behind road construction crews in order to protect workers from the traveling public. Now, CDOT's Autonomous Impact Protection Vehicle (AIPV) increases work zone safety by removing the driver from a truck that is actually designed to be hit.
CDOT and partners Colas UK, Royal Truck & Equipment and Kratos Defense and Security Solutions showcased the AIPV in action during a live roadway striping operation in Fort Collins, Colorado. The driverless vehicle adapted military technology that uses a rear-mounted attenuator (or crash cushion) to absorb or deflect vehicles that cross into work zones.
The truck follows a human-driven vehicle equipped with GPS that wirelessly transmits its position, speed, and heading to the AIPV. With that GPS data, the AIPV computer controls the truck's steering and pedals through actuators and cables under the floor and around the steering column using algorithms that direct it to follow within plus or minus 4 inches, relative to the leader vehicle, according to Maynard Factor, director of business development at Kratos.
Until now, crash protection trucks had to driven by a human - a job that CDOT calls one of the riskiest jobs on the road.
Shailen Bhatt, the state DOT's executive director. "The idea that we have a truck that's job is to get hit, with someone sitting in it, well that doesn't make a lot of sense."
"Just in the last four years, there have been 26 incidents where a member of the traveling public struck a CDOT impact protection vehicle — that's almost seven per year," said Bhatt. "This is a dangerously high number when you consider that in some instances, a CDOT employee is sitting in the driver's seat of the vehicle that was hit. By using self-driving technology, we're able to take the driver out of harm's way while still effectively shielding roadside workers."
Read more about CDOT's autonomous vehicle testing here: