Walt Moore | September 28, 2010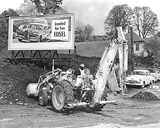 The year was 1957, and the Edsel (note the billboard) still had a future. The Edsel was around for only three model years, but the construction machine in the foreground was just the first in a long line of successors, which have carried on that machine's basic concept for 50 years.
The machine in the old photo is a Case 320 backhoe-loader, the first machine Case purpose-built for digging and loading in construction applications. The backhoe-loader concept, says Case, replaced the farm tractor fitted with a loader attachment and a jury-rigged backhoe.
If we could, wouldn't it be interesting to invite the man on the 1957 Case 320 into the cab of the 580 Super M? Taking note of the new machine's pilot controls, cushy seat, climate-control system and coffee-cup holder (what'll they come up with next?), he'd probably think that running a backhoe-loader today could hardly be considered "work."