September 28, 2010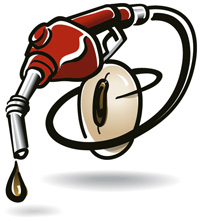 Case has become the first construction-equipment manufacturer to approve the use of B5 blends (5 percent biodiesel and 95 percent petroleum-based diesel) in all of its mechanical engines. The global manufacturer also approved use of B20 blends (20 percent biodiesel mixtures) in all Case engines other than electronic engines and those in the Case 410 and 420 skid-steer loaders.
Testing on electronic engines is not yet complete, but Case is expected to approve use of B20 in them. The 410 and 420 skid-steers use engines provided by ISM, which has not yet approved use of B20.
Biodiesel is produced from vegetable-based oils derived from renewable resources such as soybeans and canola. It is lauded as an important alternative to dependence on imported oil.
"Case is committed to working with its partners to push toward higher-level biodiesel blends that will be compatible with future low-emissions-compliant engines," says JimMcCullough, president of Case Construction Equipment. "We've initiated aggressive field tests to evaluate the performance of Case engines with 100 percent biodiesel."
Most diesel burned in Europe is already B5, and fuel sources on the continent are moving swiftly toward B20.
"Biodiesel has slightly less energy content so you get a little less power, but the difference is not perceptible to the operator, says Rick Hall, vice president of construction equipment engineering at Case. "All of our tests with B20 have shown a very small difference — if you measure power out to three decimal places, you might see it."
Biodiesel has some solvent-like characteristics, so it can actually clean up fuel injection systems. There is a remote threat of fuel-system leakage, but seals used in injection systems since the first reduction in diesel-fuel sulfur are compatible with biodiesel.
New Holland's agricultural-equipment business unit, another brand owned by Case's parent CNH, also announced its approval of B20 blends in New Holland engines powering its ag equipment.
Owners should see their local Case or New Holland dealer for more information on specific biodiesel applications.