by Larry Stewart | September 28, 2010
Big Punch in Small Rollers
Bobcat's three tandem vibratory compactors are 4,000-vpm machines, and only their Ingersoll-Rand counterparts produce as much centrifugal force in their size class. They can deliver 12 impacts per foot (recommended for maximum density performance) at a ground speed of 3.8 mph. Diesel engines in the 3,200-pound BCA14S and 6,300-pound BCA24 are Kubotas, the brand Bobcat uses throughout its family of compact equipment. The BCA12S, at 2,900 pounds, comes with a 16.2-hp Vanguard gasoline engine.
Tandem vibratory rollers: 3 models
Weight range: 2,905 to 6,335 pounds
High-Frequency Options
The 27,800-pound CC622 HF tandem roller offers frequency choices of 3,060 or 3,780 vpm, and amplitude choices of 0.024 or 0.008 inches. Drum width is 84 inches and diameter is 55 inches. Dynapac says the high-frequency/low-amplitude combination protects aggregates when compacting thin layers, and the unit can be adjusted to low frequency and high amplitude for compacting base and binder. There are also high-frequency (HF) models of the CC522 and CC422. Standard models have a single vibration frequency of 3,060 vpm and dual amplitudes. They're Cummins-powered, and the mid-range models down to 8,600 pounds use Deutz diesels.
Tandem vibratory rollers: 13 models
Weight range: 3,440 to 36,990 pounds
View to the Drum Edge Improved
With the BW284 capable of 4,000 vpm and centrifugal force exceeding 41,000 pounds, Bomag challenged the high-frequency competitors around 28,000 pounds. Vibration frequencies on the BW266 and BW278 were raised to 3,800 vpm, and the new BW161AD-4 HF makes 3,600 vpm. Slanted drum support legs on the 21,800-pound BW161AD-4 HF offer a clear view to both edges of the 66-inch drum. The Asphalt Manager system reports travel speed, mat temperature and vibrator output force. Bomag says that in its automatic mode, the system senses stiffness of the mat and automatically adjusts vibration energy to optimize performance without cracking aggregate. The larger models in Bomag's tandem vibratory line (BW266, BW278, and BW284), like their Hypac counterparts, use Cummins power. Most of the remaining line is Deutz powered.
Tandem vibratory rollers: 14 models
Weight range: 2,924 to 28,425 pounds
Smallest Multi-Frequency Vibrator
Calder markets a tandem vibratory roller weighing 2,500, 3,000, and 4,000 pounds under the Mauldin brand, and each is available with either 28- or 36-inch-wide drums. The Mauldin 1450, at 2,475 pounds, is the smallest machine in the market with variable vibration frequency. The Mauldin rollers are hydrostatically driven, and each is powered by an 18-hp Kohler engine. The line features automotive steering linkage and split front drums. Optional towing wheels make the units easy to move between sites.
Tandem vibratory rollers: 3 models
Weight range: 2,475 to 4,000 pounds
Vibrator Stops When Roller Does
Case added tandem vibratory rollers to its product line in 2002 with models DV201, DV202, and DV204, spanning 5,500 to 7,700 pounds in operating weight and offering 39-, 47- and 51-inch drum widths. The DV-Series offers a choice of vibration frequencies (3,180 or 3,720 vpm) and delivers centrifugal forces of 4,580 to 8,877 pounds. The operator can choose to have both drums vibrate, or only the front drum—a handy option for making a smooth finishing pass. The operator has the choice of using manual or automatic vibration shutoff in the neutral travel position to prevent making ripples in a compacted surface.
Tandem vibratory rollers: 3 models
Weight range: 5,510 to 7,720 pounds
Vibration and Amplitude Choices
The 25,000-pound Cat CB-534D has an optional high-frequency vibration system called VersaVibe, which offers the choice of 2,520 vpm or 3,800 vpm and two amplitude choices for each vibration setting. The D-Series is equipped with Automatic Speed Control, which can maintain consistent rolling speeds throughout a job, or the operator can also program the system to deliver the required impact spacing given the vibration-frequency setting. The vibratory system on the 28,160-pound CB-634D offers five amplitude settings and a vibration frequency of 2,640 vpm. Maximum centrifugal force is increased to 35,745 pounds.
Tandem vibratory rollers: 7 models
Weight range: 5,400 to 28,160 pounds
Diesel Option at 3,300 Pounds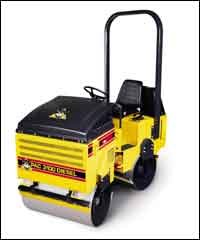 Stone's WolfPac 3100, a 3,300-pound machine with 35-inch-wide drums, is now available with a 20-hp water-cooled Kubota diesel as an alternative to the standard 18-hp Honda gasoline engine. The diesel option is about 300 pounds heavier. These 3100 options represent two of four asphalt rollers in the Stone WolfPac Line, the largest of which weighs 6,400 pounds and has a 47-inch drum width. Four-in-one controls allow the operator to manage direction, speed and vibration. The units use Parker hydraulic components and Eaton transmissions.
Tandem vibratory rollers: 3 models
Weight range: 2,950 to 6,383 pounds
Dual Controls Simplify Detail Work
LeeBoy's 7,000-pound 400 vibratory roller has a vibration frequency of 2,700 vpm and maximum centrifugal force of 4,000 pounds. Its split front drum provides a compaction width of 44 inches. A 40-hp Hatz diesel engine powers the hydrostatic drives to rolling speeds of up to 6 mph. With a length of 108 inches and 78-inch overall width, the roller gets into tight spaces. Forward and reverse levers are mounted on both sides of the driver's console to help the operator stay focused on the mat during detail work.
Tandem vibratory rollers: 1 model
Weight range: 7,000 pounds
Packs with a Light Touch
Hamm brought its Oscillation Technology—a drum that vibrates horizontally, rather than delivering vertical forces—to North America with the 20,200-pound HDO90V. It's a hybrid of the HD 90 platform, with a conventional vibratory front drum. Two eccentric weights cause the rear drum to oscillate horizontally. Hamm says horizontal shear forces create a rocking energy that leaves the drum in constant contact with the ground for up to 62 percent faster compaction. The maker also credits horizontal oscillation with compacting more gently, protecting bridge decks and other rigid surfaces being overlayed with asphalt. Frequency and amplitude controls are at the operator's station.
Tandem vibratory rollers: 11 models
Weight range: 5,688 to 30,644 pounds
Choice of Honda or Vanguard
The RD 11 vibratory rollers, with 35.4-inch drum width, are offered with the choice of Honda or Vanguard engines, both rated at 18 horsepower. A breakdown pass by the vibratory front drum is followed by a finishing pass with the static rear. Machined drums with tapered edges reduce track patterns. The 3,300- and 5,500-pound RD 15 and RD 25 are powered by air-cooled Hatz diesels and offer vibratory action in both drums.
Tandem vibratory rollers: 3 models
Weight range: 2,784 to 5,510 pounds
Dual Frequencies and Amplitudes
Ammann's 6,195-pound AV 26 has a pair of 47-inch-wide drums that deliver up to 8,093 pounds of compactive effort. The vibration system offers dual frequencies and amplitudes controlled from the dashboard for a total of eight different compaction settings. The articulated unit has a spherical center joint, and is designed with 2½ inches of offset to improve maneuverability. Ammann is a Swiss company with American operations headquartered in Farmers Branch, Texas. Multiquip distributes Amman's smaller compaction equipment.
Tandem vibratory rollers: 11 models
Weight range: 3,085 to 20,900 pounds
Hard-Working Midsize Machines
The mid-sized tandem rollers from Vibromax—Models 355, 365, 455, and 465—span a weight range of 8,600 to 10,700 pounds and offer drum widths of more than 55 inches. Optional five-inch drum offset allows them to compact close to jobsite obstacles even in turns, and to close transverse joints. Vibration frequencies of 3,000 to 3,300 vpm produce required densities quickly. The company is preparing to introduce a 10-ton, 68-inch tandem roller to North America. Most of the German-built line, from the 255 to the 465, are powered by Kubota diesel engines and run two-speed Poclain hydraulic motors. Vibromax also owns the historic Ingram brand.
Tandem vibratory rollers: 9 models
Weight range: 2,606 to 23,300 pounds 
Max Frequency at Chosen Amplitude
With the Ingersoll Rand DD-158HFA introduced early this year, company engineers designed an amplitude control system that automatically adjusts vibration frequency based on the chosen amplitude (there are eight amplitude settings). In lower amplitude selections, higher vibration frequency is permitted. In higher amplitude settings, lower frequency is enabled. The machine automatically pushes vibration frequency to the highest possible value for the selected drum amplitude, which allows effective compaction at faster rolling speeds. The design frequency for amplitude setting No. 1 is 3,400 vpm; in amplitude 5 the frequency is 2,800 vpm; and in amplitude 8 it's 2,500 vpm. Standard equipment includes an impact meter to show the operator actual drum-impact spacing.
Tandem vibratory rollers: 28 models
Weight range: 2,905 to 33,810 pounds
Compacts Close to Curbs
The AR-13H sports a 1¼-inch clearance on the right side for close operation near obstacles, and 19 inches of curb clearance. The static rear drum provides a smooth surface and can be filled with water for additional ballast. Multiquip is redesigning the 3,088-pound AR-13H's hydraulic system, switching from a parallel-drive system to series hydraulics. The company is also developing a diesel-powered version, which is expected to be among the few 1.5-ton, dual drive tandem rollers with a diesel engine to be produced in North America.
Tandem vibratory rollers: 1 model
Weight range: 3,088 pounds
Indicator Maintains Impacts Per Foot
The 28,400-pound C784 now achieves maximum vibration frequency of 4,000 vpm, for effective rolling speeds of up to 4.5 mph. Like its counterparts in the Bomag product line, the large Hypac machines have a monitoring system called the Multi-System Performance Indicator (MSPI). It automatically measures amplitude, frequency and mat temperature, and interfaces with the travel and vibratory systems to regulate working speed and auto start/stop of the drum vibrator. On the C784 (and Bomag's BW284), the system controls vibration impacts per foot. If the operator selects a desired number of impacts per foot, MSPI will adjust vibration frequency with changes in rolling speed to maintain that setting. Bomag Americas supplies more than 23 Hypac products, many manufactured in Kewanee, Ill., to North and South America.
Tandem vibratory rollers: 6 models
Weight range: 5,952 to 28,425 pounds
Lots of High-Frequency Options
Vibration frequency of 4,000 vpm is now standard on seven Sakai models, with drum widths ranging from 39 to 84 inches. Sakai's eccentric weights rotate in opposite directions (counter-rotating), which the company says improves the finish by eliminating the bow wave that builds up in front of rollers with both vibrators spinning the same direction. The SW800 and SW850 are built in the United States, and employ Isuzu diesel power. The SW651N offers oscillating vibration, which generates horizontal shear forces rather than the traditional vertical vibration. The Sakai unit sits on 58-inch-wide drums—compared to 66-inch drums on the other oscillating machine in North America, Hamm's HDO90V.
Tandem vibratory rollers: 7 models
Weight range: 5,965 to 28,660 pounds
Full-Featured Line Under 7,500 Pounds
The new TA52, with 52-inch-wide drums, tops Compac's line of small tandem vibratory rollers with a maximum vibration frequency of 4,000 vpm and top centrifugal force of 7,500 pounds. When front- and rear-drum vibration are combined, they deliver higher frequency and lower amplitude for finish rolling. The three TA Series machines are powered by Kubota's 37-hp D1703 diesel. The articulated units' rear drums also steer, allowing offset to avoid curbs and seal joints.
Tandem vibratory rollers: 4 models
Weight range: 3,140 to 7,400 pounds
Buying File Feature: Vibratory Rollers Respond to the Need for Speed