By Lynn Landberg, Senior Editor | September 28, 2010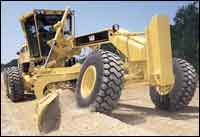 Caterpillar's 14H motor grader now offers VHP, which provides an additional 20 percent horsepower in seventh and eighth gears. The operator's station is designed for straightforward, comfortable operation, with changes that optimize control effort and response, improve sight lines to the work area and enhance operator comfort. The electronic throttle control makes throttle operation easier and more precise. Electronic Clutch Pressure Control delivers optimized inching modulation and smooth, consistent shifting. The Electronic Monitoring System III keeps the operator informed and helps protect the machine from damage.
Number of models: 10. Recent changes: Significant changes to models 140H, 160H, 14H. Noteworthy features: Matched components are Cat designed and manufactured, broad range of extended blade positions, superior sight lines to the blade, grader-specific hydraulic controls.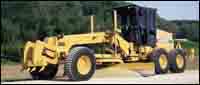 New from Case, the 800 Series ranges from 140 to 205 horsepower and operating weights from 29,777 pounds to 37,950 pounds. The graders feature a one-piece, non-metallic sloping rear hood that provides top visibility from the cab. Filters and daily service points can easily be reached, thanks to the flip-up hood and flip-down panels along the bottom of the hood. The A-frame drawbar design provides strength and stability to the moldboard and circle. A single-drive-gear motor turns the circle up to 360 degrees for maximum turning ability, even under full load. The motor is mounted on the outside of the circle, lessening stress on the teeth of the circle and preventing debris or dirt from spilling onto the motor or into the drive-gear teeth. Moldboards come in 12-, 13- and 14-foot widths.
Number of models: 3. New models: 845, 865, 885. Noteworthy features: Flip-up hood and flip-down side panels, cab positioned for visibility, model 865 comes in variable horsepower configuration, hydraulically driven cooling fan, involute multi-radius moldboard design.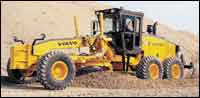 New B-Series motor graders from Volvo are powered by Volvo diesel engines that are Tier II compliant, fuel efficient, and provide high torque at low rpm. The engine is equipped with a variable horsepower system, ensuring that the correct power is applied to the drive wheels for every application. For fine grading, the engine and a large variable displacement hydraulic pump allow the operator to reduce first gear ground speed by operating at a lower rpm and retain full hydraulic control. The operator's compartment includes new features that enhance operator comfort, convenience and efficiency. The Contronic Monitor System monitors all machine functions and stores operational data for later downloading by service technicians.
Number of models: 11. New models: G700B B Series. Noteworthy features: Tier II compliant engine, Volvo 8400 transmission, improved hydraulics, fine grade control, operator comfort.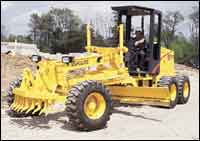 The New Holland RG Series motor graders consist of five models and range from 76 to 205 horsepower. All models feature New Holland's rollaway moldboard, which lowers the apex of the blade and keeps material from building up in front of the blade, reducing the amount of power and fuel needed to complete the job. Moldboard widths run from 12 to 14 feet and are built using heavy-duty box section construction. The front axles are heavy-duty, truss-types for durability and long life. The front axle also has 18 degrees of oscillation up and down to follow the contour of the surface and a left and right wheel lean of 18 degrees, which counteracts blade side draft and improves the turning radius.
Number of models: 6. Recent changes: All-wheel drive versions of RG170, RG170VHP, RG200. Noteworthy features: Rollaway moldboard, heavy-duty truss-type front axles, Super Max-Trac differential, slanted rear hood, replaceable cutting edges and bits. 

Ranging from 140 to 200 horsepower, Komatsu's new Laterra motor grader line features a dual-mode transmission that allows the operator to move from torque converter to direct drive mode by a simple flip of a switch. The torque converter mode gives the operator excellent slow speed control and power. In higher speed ranges, the transmission automatically shifts between gears. The bald geometry allows a true 90-degree bankslope position, making for easy blade maneuvering, all the while providing exceptional reach and ground clearance. An ergonomically designed cab offers good visibility of the blade, front tire, tandem tires and rear ripper through both the front and rear windshields.
Number of models: 8. New models: GD555-3, GD655-3, GD675-3. Noteworthy features: Dual mode drive train, excavator-like hydraulics, all-hydraulic wet disc brakes, visibility.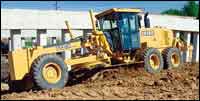 Improvements to the John Deere C-Series II motor graders provide more reliability and durability, including enhancements to the power train to provide longer life, and a new front axle that offers a tighter turning radius and reduced tire wear. Also improved is the fan drive system, which has an easy-to-service, 14-rib poly-vee fan belt. A lube-for-life driveshaft results in significantly lengthened service intervals. The 772CH, shown here, has an enhanced Hydrostatic Front Wheel Drive design that provides more precise control. It uses a dual path hydrostatic system and speed sensing control to provide power to each front wheel independently as needed. The system also offers a selectable inching mode that enables refined inching capability with traction-boosting all-wheel drive down to a virtual standstill.
Number of models: 6. Recent changes: Improvements to Series II models. Noteworthy features: Drawbar pull, six-wheel drive, maneuverability, 25-degree articulation, serviceability.
Buying File Feature: Motor Graders' Little Things Mean a Lot