By Larry Stewart, Executive Editor | September 28, 2010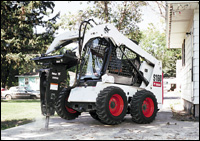 Less Noise, More Hydraulic Horsepower
Bobcat introduced its K-Series skid-steers at World of Concrete this year with the new SmartFAN, a thermostatically controlled, hydraulic fan drive that runs just fast enough to meet cooling demand. It saves fuel and generates up to 30 percent less noise. The hydraulic system in the K-Series mid-sized machines now emulates Bobcat's large-frame loaders, using a dedicated charge pump that provides an 8-percent increase in hydraulic horsepower.
Mid-sized skid-steer models: 5
New models: Vertical lift path S175, S185 and S205
Product-line features: The dual-path cooling system draws air from above the engine compartment through the oil cooler and radiator. Bobcat says the design reduces dirt and debris restrictions in the cooling system and minimizes debris in the engine compartment.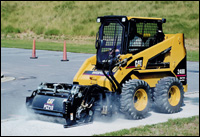 Lifts Rated Capacity At Low Idle
All of the Caterpillar mid-size skid-steer loaders can lift their rated operating load with the engine at low idle, so the machines retain their lifting torque even if the operator slows the engine to place materials gently. Cat added an optional high-flow hydraulics package for the 242B to meet the demands of powered work tools.
Mid-sized skid-steer models: 5
Product-line features: Caterpillar offers vertical- and radial-lift skid-steer loaders in the 1,601- to 2,200-pound range so machines can be tailored to lifting or digging, material handling or loading. All Cat skid-steers come standard with pilot-hydraulic joystick controls. Daily service checkpoints are grouped in one location behind a rear door that can be opened without removing any access panels and with the boom down.
Single Arm for Safer Operators
The single loader arm on the right side of JCB's loader continues to be its primary point of distinction in a crowded skid-steer-loader market. The single loader arm allows the user to enter and exit the machine through a door on the left side. The operator doesn't have to clamber over a potentially slippery bucket or attachment, and never climbs in or out of the machine under a load or the lift arm.
Mid-sized skid-steer models: 1
Product-line features: Servo, pilot hydraulic joysticks can be configured for hands-only control or foot-and-hand control. The attachment quick coupler is standard equipment.
Volvo Engines, Big Breakout
In February Volvo launched its B-Series skid-steers, replacing Perkins diesels in its mid-sized skid-steers with Volvo Tier-2 powerplants whose 16-valve, cross-flow heads improve air intake for improved torque at low speed. The ROPS/FOPS is redesigned with larger front and rear openings to improve the operator's view forward, above, and to the rear and sides. The B Series offers buyers a choice of foot-and-hand mechanical controls or pilot-hydraulic hand controls.
Mid-sized skid-steer models: 2
New models: MC80B and MC90B
Product-line features: Loader arms have been engineered to reduce stress points. Volvo buckets are also upgraded to match machines better and improve breakout force and dump angles. At over 7,500 pounds, the MC80B and MC90B's bucket breakout forces are significantly greater than any other mid-sized skid-steer's.
Reach Higher and Farther
New Holland says its SUPERBOOM models reach higher and farther. The SAE standard for measuring rated operating capacity is one-half of the tipping load. Tipping load is measured with the bucket at the point where it is farthest from the machine. That point is higher and farther out on New Holland SUPERBOOM machines than on most other loaders.
Mid-sized skid-steer models: 3
Product-line features: New Holland mid-sized machines have among the largest wheelbases in their size ranges. That, along with a standard suspension seat, helps these New Hollands deliver a comfortable ride.
Better View, More Control Choices
To improve the operator's view, Mustang re-engineered its ROPS/FOPS enclosure for the 2054 (and 2044, in a smaller class) with a larger rear window and redesigned side screen. Hand controls require 18 percent less control effort. The 2054 and 2044 have two new control options: dual lever with foot controls and T-bar with foot controls.
Mid-sized skid-steer models: 3
Product-line features: Gehl provides skid-steers to Mustang, but the two lines are hardly identical. Gehl's 4640 and 4840 have no Mustang counterpart, and Mustang's 2054 has no comparable Gehl model. Even those models that share a basic platform (chassis and hydraulic pumps) retain significant distinctions such as Mustang's unique loader arms and Yanmar, instead of Deutz, engine.
Better Cooling, Starting, Faster Ground Speed
The 400 Series 430, 440 and larger models introduced in 2005 feature a Tier 2 engine with a 95-amp alternator and new cooling package to balance control of engine and hydraulic temperature. Radial-piston drive motors with two-speed ground drive are also available, as is factory-installed air conditioning on the 430 and larger models.
Mid-sized skid-steer models: 3
New models: 420, 430 and 440
Product-line features: Standard low-effort servo-hydraulic controls and optional ride control are said to reduce operator fatigue.
Excels at Loading
Deere introduced its 300 Series skid-steers in 2004 with patented vertical-lift booms achieving maximum reach at full lift height. Thirty-five-degree bucket rollback reduces spillage in the carry position, and the dump angle is a steep 45 degrees. There are skid-steer hydraulic systems that push a bit more flow than Deere's standard 317 and 320, but none bests 3,450 psi pressure except Caterpillar's 248B.
Mid-sized skid-steer models: 2
New models: 317 and 320
Product-line features: The 300 Series skid-steers carry John Deere's 250 Series Power Tech engines. Oil-change intervals are extended to 500 hours with Deere Plus 50 engine oil and filter.
Improved Operating Capacity
Gehl refined the new E-Series loaders to reduce sound levels and improve performance, yielding what Gehl calls "some of the lowest operator sound levels in the industry." Operating capacity increased 150 pounds, to 1,650 in the 4640T. Gehl says Poclain's refined radial-piston drive motors enhance reliability and loader and attachment performance while reducing sound levels. New muffler design and air intake also reduce sound.
Mid-sized skid-steer models: 4
New models: 4640ET, 4840E, 5640E and 5640ET
Product-line features: The Power View Boom improves operator views left and right over the loader arm.
Works Without Stalling
The SK818-5 and SK820-5 are the first Komatsu skid-steers with vertical-lift arms. Automatic Power Control relying on Komatsu's load-sensing hydraulics allows operators to work at full power with no worries about stalling the engine.
Mid-sized skid-steer models: 4
New models: SK818, SK820 and SK1020
Product-line features: Komatsu's Proportional Pressure Control joysticks require little lever effort, and operators have the choice of three control patterns including traditional hand-and-foot controls to two variations of hand controls. Ride control is an optional feature.
Vertical Lift Suited for Loading
The multiple-linkage, vertical-lift design of the Thomas 205 achieves a maximum reach of more than 31.5 inches at full height. Other features of the recently introduced machine, such as low-profile rounded boom arms and lower rear end for unobstructed view all around the machine, help tailor the 205 to loading work.
Mid-sized skid-steer models: 3
Product-line features: All Thomas loaders come with a five-year, 5,000-hour warranty (three years or 3,000 hours full-machine warranty plus two-year, 2,000-hour coverage on the drive train).