By Walt Moore, Senior Editor | September 28, 2010
Broad Selection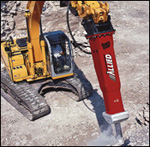 Allied Construction Products has two breaker lines, Rammer and the AR-Series. The Rammer line includes five different breaker series, a total of 32 distinct models, sized to fit a broad range of carriers. The AR-Series, says Allied, meets the growing demands of the rental market and offers "an alternative hydraulic breaker" to contractors.
Number of models: 40
New models: in8, in11, in15, in22, m14, m18, G 88 and AR 70C
Product-line features: The Rammer m-Series breakers (the m-18 is pictured) are designed as three modules, which can be separately (and speedily, says Allied) repaired. According to the company, the m-Series features adjustable impact energy, constant blow energy, high power-to-weight ratios, heavy pistons for high impact energy, no tie rods or bolts and the RamData blow counter that signals (via colored lights) when specific maintenance is required.
Protected Side-Plate Hardware
According to Stanley, the three smallest models in its Series-6 line (MB 156, MB 256 and MB 356) feature a stress and fatigue-resistant body design with fully protected side-plate hardware that "virtually eliminates bolt failures." The three largest models (MB 556, MB 656 and MB 956) use a fully enclosed housing that employs an "anti-vibration design with the power cell floated between upper and lower bumpers."
Number of models: 15
New models: MB 15EXS
Product-line features: The Stanley line of MB EXS Stealth-Series breakers are designed to fit hydraulic excavators weighing from 10,000 to 130,000 pounds, and the three smallest models (MB 15EXS, MB 20 EXS and MB 30 EXS) are suitable for use on backhoes weighing from 10,000 to 28,000 pounds. These breakers incorporate noise-suppression features and have an "armored" (heavy-duty) lower end for the enclosed housing.
Fully Hydraulic Operation
The Ingersoll Rand range of mounted hydraulic breakers (which includes three series: (Tramac Heavy; Tramac Medium; and the SC/CB models) features fully hydraulic operation. An integral design feature is an "energy cell," which supplements hydraulic flow from the carrier and, says the company, ensures maximum energy with every blow.
Number of models: 19
Product-line features: An automatic pressure regulator in Ingersoll Rand breaker models is designed to maintain proper operating pressure at any flow rate within a specified range. Heavy- and medium-class models also feature an energy-recovery valve that "recycles recoil energy and adds it to the next blow" and a trapezoidal piston designed to generate "a progressive, sustained shockwave that builds intensity throughout its duration."
Long-Stroke/High-Velocity Piston
According to Okada America, the design of its breakers features pistons that have a long stroke and attain high velocity for maximum impact energy. These breakers employ a combination of high-pressure hydraulic oil from the carrier as well as a compressed-nitrogen-gas charge to fire the piston.
Number of models: 17
Product-line features: Okada America makes the point that its unique heat-treating process produces special-strength working steels that provide long-wear life in severe applications. Large upper and lower tool bushings are designed with special, wear-resistant alloys.
Two Moving Parts
The piston and the main valve are the only moving parts on its breakers, says Huskie, and all of its models are serviceable in the field without special tools. According to Huskie, its breaker models feature a "gas-assist" cycle, using the hydraulic system to provide most of the firing power.
Number of models: 12
New models: HH150-2, HH300-2, HH500-2, HH750-2, HH1000-2
Product-line features: Newest in the Huskie line are the Series-2 models which, says the company, provide as much as 50 percent more power in the same package as predecessor models. The Series-2 features redesigned pistons, main valves and internal porting. Larger models in the Huskie line (HH2000-HH8000) provide two levels of blow energy and frequency.
Automatic Power Boost
The largest models in Atlas Copco's four-series breaker line are in the HB (Heavy Breaker) range. Powered by a combination of hydraulic oil and nitrogen gas, these models receive as much as 75 percent of their piston-firing power from the nitrogen. In tough conditions, HB breakers can switch to an energy-recovery mode, boosting percussive output by as much as 25 percent.
Number of models: 29
New models: SB 100, SB 150, PB 530, MB 700, HB 2500
Product-line features: Atlas Copco's SB (Solid Body)-Series includes 12 models that range in weight from around 75 to 950 pounds and feature a one-piece design that contains all integral components in an iron-alloy casting. Newest additions to the SB line are the SB100 and the SB150 (pictured), which use a replaceable floating bushing and incorporate a built-in relief valve to protect against excessive pressure from the carrier.
Dust-Intake Protection
The largest of Kent's F-Series mounted hydraulic breakers (KF19Qt through the KF70Qt) feature a dust-intake-prevention system designed to minimize dust intrusion into the front head during the piston upstroke. According to Kent, this feature extends the life of the piston as well as the working steel and bushings.
Number of models: 14
Product-line features: Features of the model KF22Qt (pictured) include a built-in safety valve that actuates when the carrier exceeds the unit's maximum pressure, a greasing system that lubricates the front head and front bushings, plus higher back-head pressure and larger piston diameterto increase impact energy by as much as20 percent compared with predecessor models.
"Urban Silencing"
The Arrowhead range includes two breaker series, the S-Series and the Urban-Series. The latter features reduced-sound operation, mechanical/hydraulic recoil dampening and, says the company, a tolerance for a wide spread of pressure and flow.
Number of models: 8
Product-line features: The S-Series range includes five models that range in Impact Energy Class ratings from 250 to 1,250 foot pounds. The largest model, S100, is capable of blow frequencies from 550 to 1,100 and is designed for carriers weighing from 16,000 to 24,200 pounds.
Resilient Mounting Dampens Forces
According to NPK, all of its breakers are built with only two moving parts, are designed to eliminate bladder-type accumulators, use a quick-change tool sys-tem and feature separate ports to accommodate an Auto Lube system and an air line for underwater operation. The company's medium and large models use a shock-absorbing mounting bracket with heavy-duty rubber pads to absorb shock, recoil and vibration forces.
Number of models: 14
New models: GH-30
Product-line features: The new GH-Series breakers, says NPK, are benefactors of a computer-modeling design that results in units of lighter weight, yet capable of high impact energy. GH-Series features designed to increase service life and to facilitate servicing include an internal drain system to promote longer seal life, new bottom tie-rod nuts and a new bottom enclosure that affords enhanced protection.
Wide Range of Capability
The MKB range of breakers is manufactured by the Konan Construction Group in Japan and distributed (through a network of 300 dealers) by Dominion Equipment Parts. The MKB line provides models ranging in impact-energy-class ratings from 150 to 18,000 foot pounds.
Number of models: 15
New models: 1400N, 1700V
Product-line features: The MKB range of breakers uses a combination of pressurized oil from the carrier and a nitrogen-gas charge to fire the piston. According to the manufacturer, the breakers are designed with noise- and vibration-absorption features.
Automatic Power/Speed Adjustment
Indeco loosely classifies its 19-model HP-Series breaker range into three categories: skid-steer/mini-excavator; tractor-loader-backhoe; and hydraulic excavator. The as-sociated carrier weights for these classifications are, respectively, 0.5 to 6 tons; 4.5 to 12 tons and 7 to 90 tons.
Number of models: 19
New models: HP Series
Product-line features: According to Indeco, its new HP (High Performance) range of breakers features "automatic variance of speed and power," dual shock-absorber systems, two tool retainers, field-replaceable lower insert bushing and power greasing system.
Side-Plate and Box-Housing Models
The 35-model BTI hydraulic breaker line ranges in impact-energy-class ratings from 350 to 10,000 foot-pounds, and in operating weight from 240 to 10,195 pounds. The BTI product range includes a mix of side-plate models (TB-ME, TB-QA and TB-X) and boxed-housing models (TB-XC and BT-Series) that accommodate a wide spread of carriers, including pedestals.
Number of models: 35
Product-line features: The BTI BT-Series features 10 suspended-boxed-housing models that incorporate rock clawsand abrasion-resistant plating around the nose. A pressure-balancing system on smaller models eliminates the accumulator, but an accumulator used on models rated at 4,000 foot-pounds or more assists in piston acceleration. The eight largest models have remote air porting for underwateroperation.
Switch Between Loader and Excavator
Bobcat, a business of Ingersoll Rand, is the benefactor of its parent company's hydraulic-breaker technology. We have chosen to include Bobcat among breaker manufacturers, however, because Bobcat engineers were instrumental in the development of the small breaker line, and because certain components of the breakers are manufactured in Bobcat facilities.
Number of models: 5
New models: HB1180
Product-line features: Bobcat makes the point that its breakers can be switched between a Bobcat skid-steer loader and a Bobcat hydraulic excavator by using the Loader X-Change frame and an Excavator X-Change mounting cap. The newest of the Bobcat breakers, the 750-foot-pound-rated HB1180, is designed to fit a range of Bobcat models.
Enhanced Operating Cycle
Caterpillar's new D-Series hydraulic-breaker range to date (more models are coming) covers a broad spectrum of breaker applications, from the model H35Ds to the H160Ds. According to Caterpillar's Work Tool Group, the company designs it own breakers, and then manufactures them via a joint-venture agreement with a major breaker manufacturer.
Number of models: 6
New models: H35Ds, H45Ds, H55Ds, H65Ds, H140D and H160Ds
Product-line features: Larger models incorporate an automatic shut-off feature (blank-firing protection), provide screw adjustment of the pressure control valve (no need to remove the valve), and also feature an enhanced operating cycle that delivers increased power and higher blow frequency than predecessor models. Smaller-model features include an enclosed housing and one-piece body (no tie rods or nuts).
Click here to read the Buying File Introduction -- Hydraulic Breakers: Better Than Ever at Bustin' Hard Stuff