September 28, 2010
Items:
Caterpillar
Terex Roadbuilding
Roadtec
Marini
Dynapac
Wirtgen America
Controls Load for Peak Efficiency
Last month Caterpillar introduced the lightest milling machine in the 72- to 87-inch class, the 41,300-pound PM-201, with a 550-hp C18 diesel. Cutting width is 83 inches, and depth is 12 inches. Automatic load control adjusts propel speed so the engine turns at no less than 1,900 rpm for optimum torque and horsepower. Cat says this maintains rotor and conveyor speed so the machine always works at peak efficiency. An optional hydraulically operated front door in the housing provides adjustable down-pressure to improve sizing of material.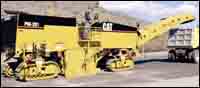 Number of models:
2
New models: PM-201
Product-line features: A contacting grade sensor measures side-plate movement making the side plate an averaging device for accurate grade matching. Three sonic grade sensors mounted on the side of the machine allow averaging over the entire length of the machine.
950 Horsepower Under 80,000 Pounds?
The prototype Terex/CMI PR-950 shown last month at Conexpo-Con/Agg packs a 950-hp Cummins diesel and a maximum cutting width of 150 inches. It's the only milling machine in this niche over 600 horsepower that's not Cat powered. If the company achieves its weight targets, the PR-950 will be the only milling machine with more than 800 horsepower that can be transported with the standard overweight permits in some finicky states. It is expected to be available in both three-track and four-track configurations.
Number of models: 4
New models: PR600 and PR950
Product-line features: Terex redesigned its cutter housing to taper — it's narrower at the bottom than the top. Squeezing the space around the rotor is intended to move material to the center of the housing and onto the conveyor faster. Terex says that reduces wear on the rotor and makes more efficient use of the machine's horsepower. A 42-inch-wide lower conveyor replaces the 36-inch belt.
Front and Rear Moldboard Slope 10 Degrees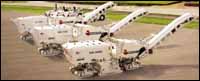 Roadtec added the RX-700, half-lane cold planer to its line this year, with a Cat C18 diesel rated at 700 horsepower in both the three-track and four-track versions. The engine matches that used in Wirtgen's W2100, the RX-700's only competition at 700 horsepower. Standard cutting width is 79 inches, with option for 86-inch cuts. The 46-inch-diameter rotor will cut 14 inches deep. Operating weights are 80,800 and 76,600 pounds for the four- and three-track versions.
Number of models: 3
New models: RX-500, RX-700 and RX-900
Product-line features: Roadtec reengineered its milling-machine line with more engine horsepower and front and rear moldboards with a 10-degree slope. All three machines are available in either three- or four-track configurations. Roadtec's optional VCS cutter housing allows 2-, 3-, and 4-foot cutting widths.
Replaced Holders Retain Tooth Angle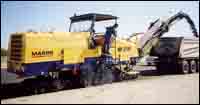 Marini is now using Kennametal's KPF301 tooth-holder system on its cutting drum. Bases are securely welded to the drum and blocks can break away from drum under excessive force, leaving the bases in place. The system is designed for quick replacement of blocks and cutting tools while maintaining skew and attack angle. An update to the MP2000 is due mid-year. Water-cooled Deutz diesels power Marini's milling machines.
Number of models: 2
New models: MP2000 (coming mid-2005)
Product-line features: One switch will pause all of the functions on Marini's milling machines. Marini has been producing road-construction equipment for more than 80 years, and is a member of the Fayat Group's road-building equipment division.
Conveyor Folds on Tight Turner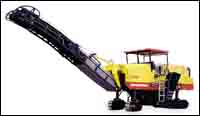 Dynapac has added a folding conveyor to make its milling machines, the PL2000S and PL2100S, easier to transport. These four-track machines' 80-inch turning radius makes them the most maneuverable 600-hp cold planers weighing more than 73,000 pounds.
Number models: 2
Product-line features: The six-cylinder Cummins QSX 15, a 600-hp diesel rated at 2,100 rpm, powers Dynapac's PL2000S and PL2100S. The key difference between the two models is their cutting width (79 inches and 83 inches, respectively), and the PL2100S is about 4,000 pounds heavier.
Focus on the Milling Head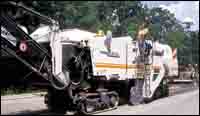 Wirtgen's biggest milling machine, the 900-hp, 96,000-pound W2200, has flexibility to go from milling 14 inches deep and 7 feet 3 inches wide to 10 feet 6 inches wide under one housing. A change of housings accepts cutting heads from 11 feet wide to 14 feet 6 inches for profiling pavement. It's the widest cutter available on a half-lane machine. Wirtgen's 565-hp W2000, with an optional cutting width of 88 inches, cuts the broadest swath among machines less than 700 horsepower.
Number of models: 4
Product-line features: Wirtgen is the only manufacturer that builds all of its own cutter-head components instead of sourcing components from an OEM. Wirtgen's claim to bigger, heavier cutter heads is supported by the fact that the company markets the heaviest machine in each of the horsepower classes in which it participates. Wirtgen designed a heavier gradation grid assembly to keep slabs of asphalt off the conveyor.
Buying File Feature: Big Ripples Smooth a Small Pond