By Larry Stewart, Executive Editor | September 28, 2010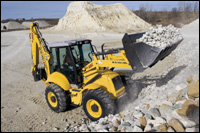 Precision Swing, Pistol Grip Improve Control
With the introduction earlier this year of the new B Series backhoe-loaders, New Holland enhanced its pilot-control option with Precision Swing Control. Backhoe boom strength was increased, even as its profile was narrowed to improve the operator's view to the trench. A new pistol-grip controller for the loader's four-in-one bucket improves control. A proportional-flow rocker switch on the handle controls the four-in-one jaw. Air conditioning has been upgraded to provide up to 25 percent more air flow.
Number of models: 4
New models: B95, B95LR, B110 and B115
Product-line features: The B95 has the best loader-bucket breakout force among 14-footers, and only Caterpillar's new 420E generates more stick-digging force. The B95's backhoe also outreaches most 14-footers at maximum dump height. The B95LR is the base B95 with the longer stick off the B110, making it a fuel-efficient 15-footer. Both B95 derivatives offer bucket breakout force improved by 8 percent.
Super M+ Takes a Wide Stance
Case introduced its 580 Super M+ and upgraded its remaining three backhoe-loaders to Series-2 status early in 2004. The 580 Super M+ is 11 inches wider and the stabilizer pads deploy 1 foot 8 inches farther apart than the Super M. Cab and ROPS are 3 inches wider. Case introduced it to reach customers looking for a wider stance, but who don't need all features of the 590 Super M.
Number of models: 4
New models: 580M 2, 580 Super M 2, 580 Super M+ 2, and 590 2
Product-line features: For Series 2, Case used its Tier-2-certified diesel, increasing displacement from 3.9 to 4.5 liters. Oil-change interval was doubled to 500 hours. Backhoe swing torque and breakout force increased by 10 percent, and loader reach increased by 9 percent.
Excavator Design in a Backhoe
Komatsu delivers power to the backhoe with the same Hydrau-Mind hydraulic design as its excavators. The system makes excavator-style electronic-over-hydraulic control an option on all of the company's backhoes. Two work modes — power and economy mode — offer the option of improved fuel economy for lighter workloads.
Number of models: 5
Product-line features: Flow from the variable piston pump is managed by a "Load-Independent Flow Divider" main valve that keeps the speed of each function independent even when load resistance varies. Komatsu's backhoe-loaders are manufactured at the company's plant in Newberry, S.C.
Factory-Installed Grade Electronics
Caterpillar's E-Series backhoe-loaders (introduced early this year) have the industry's first factory-installed electronics to support an automatic grade-reference system. Product Link and an entry-level AccuGrade system are options. The AccuGrade BHL Site Reference System adds position sensors to the backhoe's hydraulic cylinders and an inclinometer, which allow it to determine the position of the bucket relative to a known reference point, such as a grade stake, on the site. Caterpillar plans to introduce the BHL Laser System before year's end.
Number of models: 3
New models: 416E, 420E and 430E
Product-line features: Cat redesigned the frames, booms, sticks and axles for the E Series, and switched to an exterior-sliding extendable dipper stick. A new flow-sharing hydraulic valve meters oil evenly to all functions even when using several at the same time. Most backhoe forces increased 10 percent on the 420E and 430E.
Control Makeover Clears Floor
JCB refreshed its backhoe line's control system last August when it introduced JCB engines. One touch of a button activates JCB's pilot-hydraulic Precision Control System and an LED indicator confirms that the controls are active. Joystick control pods are mounted to the seat and can function even if the seat is not facing directly to the rear. JCB cleared the floor by moving the extendable-stick control to a switch on the right joystick, and the hammer-circuit control to a switch on the left joystick.
Number of models: 7
New models: 214, 214S, 215, 215S, 217 and 217S
Product-line features: The new JCB 444 four-cylinder, turbo-diesel has four valves per cylinder and direct fuel injection. The aspirated air cleaner uses fan suction to pull heavy debris from the intake, which JCB claims improves cleaning performance by 30 percent compared to the previous precleaner.
Pilot Hydraulics on Larger Models
John Deere upgraded its two larger backhoe-loaders, the 410G and 710G, with low-effort pilot-hydraulic controls. The entire line is powered by Deere's wet-sleeve, Tier- 2-certified engines, although the 710G — the only backhoe-loader available with over 100 horsepower — is due for a repower before year's end to meet Tier-3 limits.
Number of models: 4
Product-line features: John Deere has adopted two different hydraulic-system approaches for its backhoe-loader line, reserving open-center circuits for the 310G and 310SG, but offering the fuel efficiency of closed-center systems with radial piston pumps and low-effort pilot-hydraulic controls on the 410G and 710G.
Standard Pilot Controls
In January, Volvo made pilot hydraulic controls standard equipment on the BL70, with mechanical controls available as an option. A new loader-control joystick features a proportional switch for auxiliary hydraulic control. The standard loader features a center-mounted bucket cylinder, but this year brings a new toolcarrier option for the loader featuring parallel lift and a hydraulic quick coupler for changing attachments.
Number of models: 2
New models: BL60
Product-line features: Volvo uses open-center hydraulics with a gear pump on the BL60 and a closed-center system on the BL70.
Terex Goes All-Wheel Steer
Terex introduced the TX970B with all-wheel steer, four equal-sized tires, and a 15-foot backhoe at Conexpo last year. In February, Terex announced that pilot hydraulic controls would be standard on the TX970B and optional on the TX760B, TX860B and TX870B.
Number of models: 4
New models: TX970B
Product-line features: The Terex hydraulic design is unconventional, charging a closed-center system with a pair of gear pumps (most closed-center systems use a variable-displacement piston pump). A pressure-compensating valve senses the load in each circuit and automatically shuts down one pump when demand for hydraulic oil drops sufficiently.