By Larry Stewart, Executive Editor | September 28, 2010
Ingersoll Equipment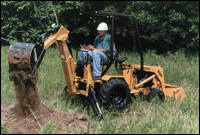 Ingersoll Equipment introduced the 7020LBH, with hydraulic four-wheel drive and a 20-hp Kohler, at the ICUEE show last year. The loader lift capacity of 938 pounds is 25 percent greater than the two-wheel drive 6020LBH. Operating weight is just over 3,000 pounds.
Number of models: 2. Dig depth: 7 feet 8 inches. New models: 7020 LBH.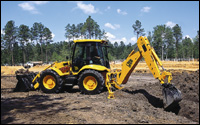 The backhoe-loader line was redesigned for 2002 with a new, automotive-style cab and canopy. In-cab noise levels were reduced as much as 2 dB(A). JCB's Precision Controls—servo-hydraulic joysticks mounted in the seat armrests like those in the JCB excavators—are an option for backhoes on the 214 and larger models. Redesigned loader arms make parallel lift a standard feature on all machines, and larger cylinders increase loader lift capacity 26 percent and breakout force 15 percent.
Number of models: 10. Dig depths: From 12 feet to 17 feet 7 inches. New models: All — 212S, 212SU, 212SL, 214e, 214, 214S, 215, 215S, 217, 217S. Noteworthy features: Three new transmissions are available. A four-speed Synchro Shuttle is standard on models up to the 214, a four-speed powershift goes into the 214S and larger, and a six-speed autoshift is available on the S models (the all-wheel-steers). JCB claims the new clutch packs used in the automatics will double their life to rebuild.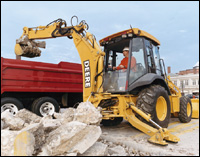 John Deere uses open-center hydraulics with gear pump on the 14-foot-class 310G and 310SG; and closed-center, load-sensing hydraulics with a piston pump in the nearly 16-foot 410G. Limited-slip mechanical front-wheel drive on the 310SG and 410G automatically transfers up to 80 percent of available horsepower to the wheel with the best traction. Most-frequent service points are grouped under the hood on one side of the G Series, and the fuel tank and filler cap were relocated to the same side.
Number of models: 6. Dig depths: From 10 feet to 18 feet 2 inches. New models: 10-foot Model 110. Recent changes: Tier II engines used in all the 310 variations and the 710G (to be introduced in December) boosted power 2 to 3 horsepower.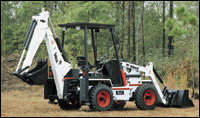 Ingersoll Rand purchased the all-wheel-drive, all-wheel-steer Earthforce line of backhoe-loaders and IR's Bobcat operating company is marketing the smaller sizes. The loaders are equipped with the Bobtach quick-attach system, and backhoes use the X-Change mounting. Bobcat is currently working to approve a line of attachments. The machines offer a choice of enclosed cab or ROPS canopy.
Number of models: 5. Dig depths: From 9 feet 9 inches to 10 feet 1 inch. New models: All — B100, B100T, B200, B250, B300.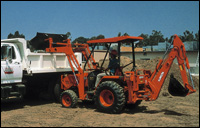 The largest-in-the-line L48TLB and the smallest model, the L21TLB, feature Kubota's HST Feather Step transmission with a hydraulic servo-mechanism that responds to a light touch on the pedal. Kubota says it enables smooth, precisely controlled forward-to-reverse direction changes. An independent swing pump on the L48's backhoe attachment allows multiple functions to operate simultaneously.
Number of models: 3. Dig depths: From 7 feet 8 inches to 11 feet 1 inch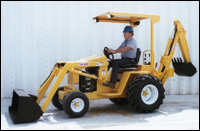 The Lay-Mor LB30 now has 3/8-inch steel in its frames—50 percent thicker than before—and the swing post is reinforced. Waldon eliminated mechanical linkages in the work functions' hydraulic controls, and designed the steering system to always draw the first three gallons per minute of pump flow. Waldon claims a lift capacity of 1,500 pounds.
Number of models: 2. Dig depth: 8 feet.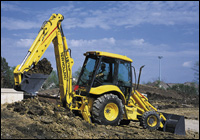 All full-size New Holland Construction backhoe-loaders have the same attachment for the pivot area, with a double clevis design that distributes the load when digging. The LB Series' redesigned backhoe turns in lifting capacities near the top of both classes in which it competes.
Number of models: 4. Dig depths: From 14 feet 6 inches to 15 feet 3 inches. Noteworthy features: New Holland claims best-in-class torque ratings for its four machines and, in fact, fields the highest-horsepower engines in the 14- and 15-foot classes. Oil changes are recommended at 300-hour intervals on the New Holland diesels.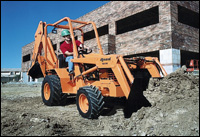 Oversized chrome pins, composite bearings, and urethane lip seals in the new ESL backhoe's joints eliminate metal-to-metal contact, seal the grease in and dirt out. Cushioned hydraulics improve control. The front axle will carry 7,000 pounds, and load-sensing steering with oversized tie rods makes the machine nimble under load.
Number of models: 4. Dig depths: From 8 feet 4 inches to 11 feet. New models: TLB-220, TLB-325, TLB-425, TLB-535.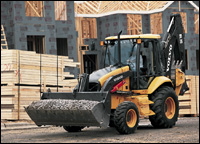 The model BL 70, a 90-hp backhoe-loader with a 14 foot-9 inch backhoe, is expected to appear in Volvo Construction Equipment dealerships in January. Volvo says its first backhoe-loader design utilizes a variable-displacement hydraulic pump, a pilot-operated loader control with built-in forward/reverse control like that used on the company's wheel loaders, and a self-leveling loader with a single dump cylinder. Volvo intends to introduce the model BL60—an 82-hp, 14-footer with mechanical controls and fixed-displacement hydraulics—in the second quarter of 2003. By the end of 2003, Volvo plans to expand the lineup to six models, including two 15-foot-class units and two with four-wheel steer.
Number of models: None yet. Dig depth: 14 feet 9 inches. Noteworthy features: Daily maintenance points are grouped on the left. All filters are on the right. Sealed grease points require lubrication at 50-hour intervals.
Two models come standard with Perkins diesel engines, and the smallest is powered by a 20-hp Kohler. Terramite claims 1,700 pounds of loader lift capacity for the two smaller models, the T5C at 3,025 pounds and the T7 at 3,820 pounds; and 2,300 pounds loader lift for the 4,400-pound Model T9.
Number of models: 3. Dig depths: From 8 feet 4 inches to 10 feet.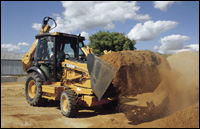 The M Series introduced late in 2000 brought what Case calls Pro Control, an anti-rebound feature that cushions quick stops and eliminates over- and under-swing. The Wide Track option spreads the tires for a wider footprint, intending to improve stability and reduce mud packing. Loader lift capacity of 6,182 pounds on the 580M and its turbo version was increased 17 percent over previous models. The 590 Super M can be fitted with an optional 96-inch loader bucket with a 1.5-cubic-yard capacity.
Number of models: 5. Dig depths: From 14 feet 3 inches to 16 feet 4 inches. Noteworthy features: Over-center design carries more of the boom weight forward of the backhoe pivot for a smoother ride. Powershift transmission speeds loader cycle times on four-wheel-drive models. The drive shaft on four-wheel-drive models is lubed for life, and remote front-axle lubrication point simplifies PM.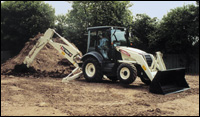 Terex takes a unique approach with a closed-center hydraulic system powered by dual gear pumps, rather than the variable-flow piston pumps typically found in a closed-center system. A speed switch allows the operator to select the correct hydraulic speed to match the machine's controllability to the demands of the job at hand. Terex introduced the line, which is basically the same as the Fermec product, in 2001.
Number of models: 4. Dig depths: From 14 feet 8 inches to 15 feet 11 inches. Noteworthy features: Four-post ROPS canopy replaces the six-post structure and improves visibility from the seat. New options include an air-suspension seat and new powershift transmission for the 860 and 860SB.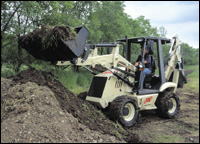 Ingersoll Rand is now selling the large end of the recently acquired Earthforce backhoe-loader line. Kubota diesels power the line with four-wheel-drive and four-wheel-steer capabilities. IR engineers enhanced the line's safety features and equipped the loaders with the Bobtach quick-attach system and backhoes with Bobcat's X-Change mounting. Four models are equipped with side-shift backhoes.
Number of models: 7. Dig depths: From 9 feet 9 inches to 11 feet 1 inch. New models: All — BL-275, BL-370, BL-375, BL-470, BL-475, BL-570, BL-575.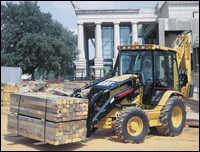 Caterpillar made pilot-operated, excavator-style, backhoe controls standard on Models 420D and 430D late last year. The short-throw, low-effort joysticks are intended to make the operator more productive. An optional valve can toggle the control pattern between SAE (excavator) and ISO (backhoe) styles in seconds. A single, pilot-operated joystick also controls the loader on Cat's unique integrated-tool-carrier models. The new Cushion Swing System smoothes the backhoe swing rebound, so operators line up the bucket with the edge of the trench wall faster and with better control. New anti-drift valves minimize drift on boom and stick cylinders.
Number of models: 4. Dig depths: From 14 feet 5 inches to 17 feet 2 inches. Noteworthy features: Closed-center hydraulic systems with variable piston pumps throughout the line. None of the D Series has all-wheel steer, but look for it on future models.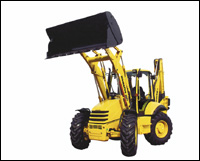 Komatsu applied its HydrauMind hydraulics—a closed-center, load-sensing system with a variable-flow piston pump—from excavators to this backhoe-loader line. Two work modes, economy and power, allow the operator to tailor hydraulic responsiveness and feel to the work at hand. PS models have an electronically controlled four-speed powershift transmission that allows changing direction or gears at full power, in manual or automatic mode, without disengaging the drive.
Number of models: 5. Dig depths: From 14 feet 8 inches to 15 feet 3 inches. New model: WB150AWS. Recent changes: The 15-foot-class WB150AWS adds all-wheel steer to the line. Komatsu says increased backhoe speed improved performance by about 15 percent. Loader-bucket capacity and auxiliary-hydraulic flow were increased.
Buying File Feature: Backhoe Battles Sweeten the Selection