September 28, 2010
Sealed Pins and Bushings Add Value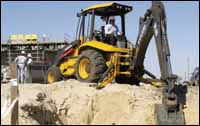 Volvo's two backhoe-loader models, the BL60 and BL70, are powered by the company's own D4D diesel engine¡ªa 4-liter model that features a 28-percent torque rise. The transmission incorporates a large 12.2-inch torque converter and features a four-speed, synchronized gearbox with an electro-hydraulic directional shifter.
Models 14' to 15': 2
New models: BL60
Product-line features: Volvo backhoes incorporate sealed pins and bushings in all pivot points for both the loader and backhoe linkages. The company says heavy-duty seals keep applied lubricant in place and block the entry of contaminants and moisture, promoting pivots that remain tight and accurate, while requiring lubrication only weekly.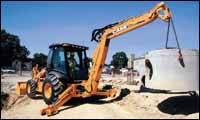 New Engines and Pilot Controls
Earlier this year, Case Construction Equipment announced its line of M Series-2 backhoe-loaders, which feature the new Case Family-3 engines. The new engines, says Case, are larger in displacement, quieter and have more torque rise than their predecessors.
Models 14' to 15': 4. Models 15' to 16': 1.
New models: 580M-II, 580M-II Turbo, 580-II Super M, 580-II Super M+, 590-II Super M
Product-line features: Case says its new pilot controls are designed to preserve the same "feel" as conventional Case controls. An in-cab switch allows changing controls between backhoe and excavator settings, and a thumb-proportional switch provides fingertip control of the Extendahoe.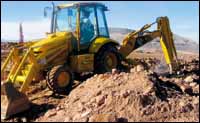 Excavator-Like Hydraulic System
The Utility Division of Komatsu America overhauled its backhoe-loader range earlier this year. The company says it has enhanced its models with increased hydraulic speed; stronger, more-advanced components; and Tier-2-compliant engines.
Models 14' to 15': 2. Models 15' to 16': 3.
New models: WB-140-2N, WB-140PS-2N, WB-150-2N, WB150PS-2N, WB-150AWS-2N
Product-line features: Komatsu borrowed its established HydrauMind hydraulic technology from its excavator range and applied it to its backhoes. Optional pilot controls are housed in two "tiltable" towers that have a "mechanical memory lock."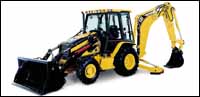 First with Standard Pilot Controls
When Caterpillar released its D-Series backhoe-loaders, it made pilot controls standard for the 420D, 420D-IT, 430D, 430D-IT and 446D. A turn of a lever changes the control pattern, and the system features sealed control-valve spools to promote leak-free operation and reliability.
Models 14' to 15': 2. Models 15' to 16': 1. Models 16' plus: 1.
Product-line features: Caterpillar backhoes feature "computer optimized" digging linkage and 205 degrees of bucket rotation. An available auto-shift transmission handles gear changes automatically, but has a manual override and a kick-down button for extra power. The Cat line includes two Integrated Tool Carrier models, which feature parallel-lift capability and high bucket forces.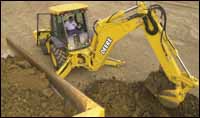 710G Leads in Specifications
According to specifications furnished by manufacturers, Deere's 710G backhoe-loader is the leader of the pack, with 118 net horsepower, 17 feet 10 inches of standard dig depth, and an operating weight of 23,000 pounds. Deere also builds a side-shift model, the 315SG.
Models 14' to 15': 3. Models 15' to 16': 1. Models 16' plus: 1.
Product-line features: Deere's extendible dipperstick is designed to have the outer box extend, thus keeping sliding components out of the dirt. Plus, the outer box can grasp objects between the bucket and its exclusive gripper teeth, eliminating the expense of an extra-cost thumb. John Deere engines used in the backhoe line feature replaceable, spin-cast cylinder liners to efficiently dissipate heat and to reduce ring wear and oil breakdown.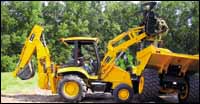 Three 4x4x4 Models
JCB's New Generation range of backhoe-loaders includes 10 models, seven of which have dig depths in excess of 14 feet. The range includes three 4¡Á4¡Á4 models, which feature four-wheel drive, four-wheel steering and four equal-size wheels. The largest 4¡Á4¡Á4 model, the 217S, has a standard dig depth of 17 feet 7 inches and can attain depths of 21 feet 6 inches with its Extradig dipperstick.
Models 14' to 15': 3. Models 16' plus: 4.
Product-line features: JCB took great care when designing the operator's station for the New Generation range. The new cabin, for example, features a one-piece, molded, composite-material floor that resists rust and vibration, dampens sound, and has integral ducts for wiring and climate-control. Standard controls are floor-mounted to conserve space and improve in-trench visibility, and precision pilot controls are available for models 214 and 215. All models can be fitted with the company's Q-Fit tool carrier.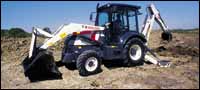 Flow-Compensated, Closed-Center Hydraulics
According to Terex, its implement hydraulic system, which features a closed-center design and twin gear pumps, is built for smooth operation, simplicity and reliability. A Power Boost feature, says the company, matches digging power and speed to the application.
Models 14' to 15': 3. Models 15' to 16': 1.
Product-line features: Terex backhoe-loaders are fitted with four-wheel drive and an extendible dipperstick as standard equipment. The four-speed synchro-shuttle transmission, featuring a large torque converter for aggressive tractive effort, has modulated directional clutches for smooth shifts.
High-Horsepower Performance
The recently announced LB.B Series backhoe-loaders, featuring a new 4.5-liter turbocharged engine, offers "best-in-class" horsepower ratings for Tier-II engines, according to New Holland Construction. The hydraulic system in B-Series models has been completely redesigned for extended life and durability.
Models 14' to 15': 2. Models 15' to 16': 2.
New Models: LB75.B, LB90.B, LB110.B, LB115.B
Product-line features: The LB115.B is one of five 4¡Á4¡Á4 models available in the U.S. market. The LB115.B has a standard dig depth of 15 feet 3 inches, and with 110 net horsepower, is bested in engine power only by the Deere 710G. New Holland offers five backhoe control options, including pilot controls with a standard pattern changer. The company says its control systems "provide exceptional feedback."
Buying File Feature: Backhoe Design Serves Both Owners and Operators