By Lynn Landberg, Senior Editor | September 28, 2010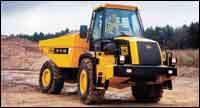 JCB replaced its 712 and 716 with the upscaled 714 and 718, aiming to bring higher-capacity haulers to site-prep and land-contouring contractors who work in limited space. The trucks work in either two-wheel drive or four-wheel drive modes, and have limited-slip differentials. The 714, with a heaped capacity of 9.6 cubic yards, fits well in off-highway applications where Class-8 dump trucks have been used.
Number of models: 2
Tons payload: 14 and 18
New models: 718
Noteworthy features: The JCB trucks are both powered by Cummins B series engines, and manage top speeds of 23 and 24 mph. ZF Smoothshift transmissions ease driveline shock. Electronic Monitoring System (EMS) watches vital functions and protects the operator and machine in the event of a system failure. It also logs vital statistics for comprehensive service records.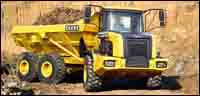 John Deere sells one of the lighter-weight trucks. At 40,100 pounds, the 300D, for example, is 8 percent lighter than the nearest competitor and 25 percent lighter than the heaviest. They're built by Bell in South Africa with Deere's PowerTech diesels replacing Mercedes power in the two smaller models, giving them the highest horsepower-to-weight ratio in the 25- and 30-ton classes. Deere claims the line has the best fuel efficiency in the industry, and the weight advantage promotes a go-anywhere image.
Number of models: 4
Tons payload: 25, 30, 35 and 40
New models: 250D, 300D, 350D and 400D
Noteworthy features: With total dump-cycle time (raise and power down) of less than 18 seconds, the 300D unloads more than a second faster than Caterpillar; three seconds faster than Volvo; and 22 seconds faster than the CNH brands.
Komatsu borrowed the engine from its 48-ton rock truck as the slightly derated heart for the HM400-1, its first articulated hauler introduced in 2001. That choice, along with borrowing the hydro-pneumatic suspension also proven in rigid dump trucks, set the rock-truck-reliability theme for the articulated HM Series. Komatsu's hitch articulates on tapered roller bearings that require no maintenance. The line challenges competitors' priorities by being the only make to include wet-disc brakes on a 30-ton truck.
Number of models: 3
Tons payload: 30, 35 and 40
New models: HM300-1 and HM350-1
Noteworthy features: Hydraulic retarder uses the service brakes on the front and center axle to eliminate braking stress carried down the driveline from a retarder in the transmission.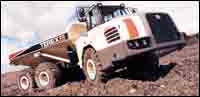 Terex launched the seventh generation of its articulated trucks with the introduction of the light end of the line last month. It marked the reintroduction of its 27-ton truck, which falls between Volvo's 26-ton truck and the CNH brands' light 30 tonner. Component choices in the new TAs suggest a significant upgrade. Cummins' QSM 11 engine in the TA30, for example, boosted gross horsepower to 350, and torque increased from 1,015 to 1,275 foot-pounds (giving Terex a 10 percent advantage over the most powerful 30-ton competitor). Terex expects hours to overhaul to stretch from 12,000 hours out to 14,000 hours. The TA30 also has ZF's new 310 planetary transmission, which appears in some 40-ton trucks.
Number of models: 5
Tons payload: 25, 27, 30, 35 and 40
New models: TA25, TA27, TA30
Noteworthy features: New models have fully hydraulic, dry disc brakes with dual calipers for 50 percent more friction area. The TA40 is expected to be upgraded to sealed, wet-disc brakes this month. The new hitch bearing is oil-lubricated.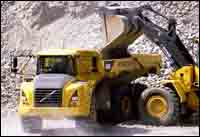 Only Volvo gives operators the option of selecting a 6×4 operating mode in a 6×6 truck to save fuel and tires in less-demanding terrain. Dog clutches in the differentials provide 100-percent lock up. Adding the oil-filled articulation joint that was introduced with the larger D Series trucks to the A25D and A30D eliminated the need for any daily or weekly service on these trucks. Greasing is required only at 250-hour intervals and fluid levels are electronically monitored. Like many artic-truck makers, Volvo has extended oil-change intervals to 500 hours for the engine; 1,000 hours for the transmission; and 2,000 hours for the transfer case and axles.
Number of models: 4
Payloads: 25, 30, 35 and 40 tons
New models: A25D and A30D
Noteworthy features: The electronically controlled Volvo D10B engine in the A25D and A30D complies with Tier II emission standards, and it brought 19 percent more horsepower to the 25-ton truck (now rated at 304 horsepower), and 8 percent more power to the 30 tonner (now at 323 horsepower). Hauling capacities also increased.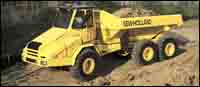 Case, New Holland and Link-Belt articulated trucks all come from one Italian CNH-joint-venture factory, but by the time the brands deliver machines, each has developed unique value. There's no denying that the Cummins engines and ZF drive trains are identical. Each truck's value differs, though, in the combinations of standard equipment and support packages each brand uses to reach unique groups of buyers.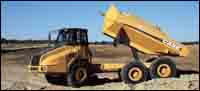 Case is considered the brand for the established contractor, so the Case cab is laid out in very traditional fashion. The warranty attracts experienced artic-truck buyers—it's a year of unlimited, whole-truck coverage; a second year of unlimited-mileage engine warranty; and the drive train is covered in years two and three up to 6,000 hours.
As a relative newcomer to construction, New Holland Construction pursues entrepreneurs with cutting-edge features. A rear-facing closed-circuit TV camera and monitor in the cab shows the operator what's directly behind the dump body. It's standard on New Holland trucks, but an option on Case. New Holland's list price is lower than that of the other CNH brands. List pricing is a deal-starting point that reflects the brands' strategies, though, and when money changes hands, it's doubtful anyone would see such a disparity between brands.

Link-Belt is a partnership between CNH and Sumitomo and operates as a freestanding company. The product line has strength in forestry, industrial, demolition and other niches. LBX customers tend to have expectations similar to Case customers, so the red and white trucks are similar to Case machines. Link-Belt buyers tend to expect high-spec trucks, so the rear-vision package is standard equipment. The 30-ton ejector body is expected back in Link-Belt's lineup in 2004.
Number of models: 7
Tons payload: 16, 25 and 30
New models: 25 and 30 tons
Noteworthy features: Three-stage telescoping dump cylinders are mounted inside the frame. Swing-out front fenders and electric-assist flip-up hood make service components easy to reach.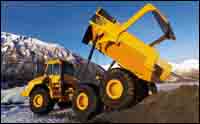 Moxy's introduction of the MT36 Series II and MT40B Series II trucks early last year suggests a divergence from the weights and capacities of trucks built by Scandinavian neighbor, Volvo. Moxy continues to install bigger engines than the industry's heaviest trucks, though. Moxy's key points of difference have more to do with stability. The oscillation ring (the part of the hitch that allows the two halves of the truck to roll side-to-side independently of each other) is located in front of the hinge. The Norwegian manufacturer says this reversal of the typical order of hitch design ensures equal weight distribution to the front wheels no matter what the attitude of the truck's bed, or how tightly the machine corners. The free-swinging rear tandem housing pivots around a center mount allowing greater vertical wheel travel and good ground contact at extreme angles. The tandems are gear driven.
Number of models: 4
Tons payload: 26, 31, 36 and 40
New models: MT36 Series II and MT40B Series II
Noteworthy features: Rear frame slopes to the front, like a rock truck, to lower the center of gravity. ZF's upgraded 6WG260 transmission in the MT26 and MT31 is beefed up to handle the new trucks' increased horsepower, and the electronic controller promises smoother shifts. 

British inventor David J. Brown's newest innovation is a 40-ton haul truck that works like an articulated dump truck off-road, but can be driven on the highway. Rear axles of the all-wheel-drive Multidrive M8-40 are mounted on a self-steering bogie, producing an outside turning radius smaller than some 30-ton articulated trucks at 29 feet 8 inches. It will run 50 miles per hour on the road; 32 mph with a load on. The vehicle is just an inch too wide for a normal license in most states.
A heavy-duty Dupont belt conveys the load out of the body like a live-bottom trailer, and the headboard sweeps the box sides clean like an ejector truck. The belt will unload the truck on the move (the load's center of gravity never changes) in forward or in reverse. Unloading time is 15 seconds. It's not a rock truck, but marketers say it has performed well hauling 12-inch shot rock. The conveyor is warranted for 4,000 hours, and because it's a common belt type, it can be replaced for about $2,500.
A Cat C15 engine is mated to an Allison automatic 6-speed. The M8-40 weighs 46,500 pounds (40 percent less than a comparable ejector truck and 30 percent less than a 40-ton dumper). The company says it burns about 40 percent less fuel than conventional artic trucks, and with a GVW well less than any 35-ton truck, that's not hard to believe.
Buying File Feature: Articulated Trucks: Growing into Their Rough-Rider Image?