By Staff | September 28, 2010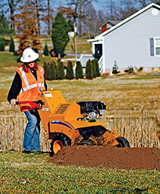 Product Line Staple Achieves Milestone
The 35th anniversary of the renowned Maxi Sneaker compact ride-on trencher was marked by Astec with the introduction of the Series D, featuring a Deutz D2009L3 four-stroke, three-cylinder engine providing 37 horsepower. This power plant is 300 pounds heavier than the previous model's, resulting in more traction while trenching and plowing.
Number of models: Seven ride-on, three walk-behind
New models: Maxi Sneaker Series D, RT130 and RT160
Product-line features: Astec recently introduced two walk-behind units, including the 13-horsepower RT130 (pictured). Featuring a reversible digging boom, the RT130 is described as the first walk-behind trencher to also feature automatic differential lock.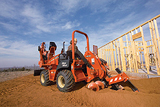 Full Trencher Product Line Available
Ranging from the 36-gross-horsepower RT36 up to the 99-horsepower RT95, each of the five current Ditch Witch RT Series ride-on trencher models under 100 horsepower was introduced in 2004. With the RT55, the gap between mid-size and compact trenching is bridged with a 60-horsepower machine featuring the sloped roof and maintenance-friendly two-piece RT Series design. The larger RT75 and RT95 models come standard with enhanced cruise control, can be equipped with either hydrostatic or power shift transmission, and can accommodate the Ditch Witch trench depth meter.
Number of models: Six ride-on, four walk-behind
Product-line features: Along with the HT25 compact ride-on tracked trencher, Ditch Witch also offers a line of pedestrian trenchers, ranging from the 10-horsepower 1030 to the 18-horsepower 1820.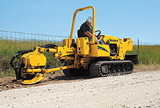 Tracked Model Joins Trencher Family
Vermeer added a rubber-tracked model to its compact ride-on trencher lineup with the 2006 introduction of the 46-horsepower RTX450. This design allows the customer to increase machine utilization, putting it to work both in soil conditions not suited to traditional rubber-tired designs and longer into the season. As with all Vermeer riding trenchers, controls are located on the right side of the operator station. Larger models, from the RT650 up, feature 90-degree rotating seats.
Number of models: Five ride-on, three walk-behind
New model: RTX450
Product-line features: In addition to the RTX450, Vermeer recently launched a 120-horsepower crawler model, but with an innovative four-track design. The RTX1250 introduces the interchangeable quad-track system to the Vermeer product line.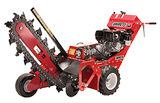 Walk-Behind Specialty
A steerable walk-behind trencher with zero-tail-swing is the latest member of Barreto's trencher family. The 1324ST, with its precise wheel control cutting drift, is suited to the trenching of uneven terrain. Long, arching curves are now possible and easy on the operator, who can steer this model with one hand. The 1324ST is powered by a 13-horsepower Honda GX390 engine. A 16-horsepower Briggs and Stratton-powered unit, the 1624ST, is also available.
Number of models: Nine walk-behind
New model: 1324ST
Product-line features: The Barreto compact trencher family also includes the 1324D and 1624D standard hydraulic models; the 1324D4, 1624D4 and 1824D4 four-wheel-drive models; and the 912HM/RM self-propelled mini-trenchers.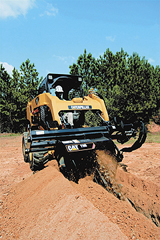 Designed to work with standard flow hydraulics, the new direct-drive Caterpillar T6B trencher attachment has an adjustable boom offering cutting widths of 6, 8, 10 and 12 inches. The T6B offers optional manual or hydraulic side-shift — up to 22 inches to the right of center — for trenching near structures. A large, adjustable auger handles spoil removal; and an optional, bolt-on crumber bar guides loose spoil away from the trench. Two optional skid shoes can aid in cleaning the trench.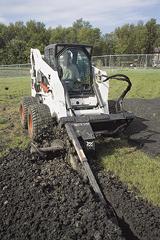 Offering digging depths ranging from 24 to 60 inches, the Bobcat trenching attachment product line was designed and built specifically for Bobcat compact equipment. Eight models are available for Bobcat mini track loaders, skid-steer loaders, compact track loaders, all-wheel-steer loaders, utility work machines and compact excavators. With hydraulic side-shift capability, operators are able to trench close to buildings, fences or other objects. For get even closer work, the auger can be removed.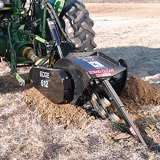 Among the trenching attachments available from CEAttachments, the Edge product line suits compact utility tractors from 20 to 45 horsepower. With heavy-duty slip clutch driveline protection, these trenchers use a 24-inch clearing auger to clear dirt away from the trench. The double standard chain will efficiently dig trenches6 inches wide to a depth up to 60 inches. For skid-steer loaders, trencher attachments are available in a width range of 6 to 12 inches. In addition, the Edge trench filler, suited to any standard skid-steer mount, can cover 60 feet of trench in 60 seconds.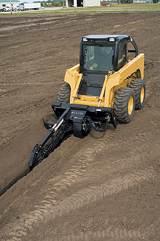 Ingersoll Rand added two new product types to its compact-equipment attachment line, including a trencher. Eight different trencher models are available for digging depths of 36 or 48 inches. Standard chain-style units are ideal for medium- to high-production trenching of sand, clay, loam and Class 5 fill material. Carbide-chain models penetrate frozen soil, rocks and asphalt up to six inches thick. With the IR trenchers, large-diameter drive sprocket increases clearance to the carrier, and a grease cylinder provides the ability to adjust chain tension.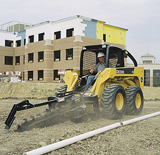 Among the nearly 100 Worksite Pro attachments for skid-steers, John Deere offers five different trencher models — two lengths with standard-flow hydraulics and three with high-flow hydraulics. As well as a heavy-duty direct-drive system that eliminates the need for a chain reduction, all trenchers feature a skid shoe to ensure auger depth control and a 60-degree angle indicator for proper digging angle. Manual side-shift allows trenching close to structures, and a standard heavy-duty crumber shoe removes loose soil. A replaceable spoil auger moves most spoil to one side of the trench.

Underground Tools Inc. (UTI) offers such trencher parts as chains, cutting systems and sprockets, all backed by the company's DirtSmart technical service. Available for all makes and models of trenchers, UTI parts are made with the best-grade steel and carbide available, and are heat-treated for strength. UTI trencher parts are lab-tested and field-proven for durability, meeting or exceeding manufacturer specifications.
Trenchers available for mounting on Ramrod Taskmaster mini-skid loaders come with a hydraulic motor drive unit, a 36-inch cutting depth, and a choice of 4- or 6-inch chain width. An optional 4-inch crumber can clean out the debris from the bottom of the trench. The trencher attachments are among more than 60 quick-attach products available for Ramrod Taskmaster mini-skid loaders.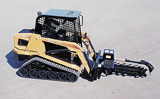 Equipped with its hydraulically driven chain trencher attachment, ASV's RC-30 compact rubber track loader allows for the installation of underground wiring and gas lines with little disturbance to lawns. The RC-30's low ground pressure and rubber tracks combine with the trencher attachment's single-side auger discharge and standard crumber to the benefit of utility companies, communications services, landscapers and general contractors. The attachment offers a trench width of 4 inches and trench depth of 30 inches.