By Staff | September 28, 2010
Full-Lane-Capable Model Hits Pavement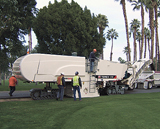 After extensive field evaluations, Terex begins production this year of the Terex CMI PR950 cold planer, a standard 86-inch milling machine which offers a 150-inch full-lane option. With a class-leading cutting depth of 15 inches, the PR950 combines all-track drive for traction with all-track steering for on-site maneuverability. With a machine turning radius of 8 feet, easy maneuvering around obstructions is further enhanced with the forward-facing positioning of the operator in front of the cutter.
Number of models: 1
New model: PR950
Product-line features: The largest and first of five new milling machines being introduced by Terex in 2007, the PR950 features an exclusive tapered cutting housing design that carries substantially less material and, thus, reduces cleanup. The quick-mount cutting housing design allows for fast removal for maintenance and simpler cutter changing.
Options Galore on Milling Machine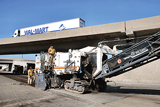 When equipped with the 3.8-meter — or 150-inch — drum attachment, the four-track Wirtgen W 2200 cold milling machine extends its big-project capabilities to full-lane applications. The full-lane drum is available with standard cutter spacing of 5/8 of an inch, as well as both fine (5/16 of an inch) and wider Eco-Drum (1-¼ inch) spacing options. The new HT11 quick-change toolholder system is standard on large-volume milling machines available from Wirtgen, including the 900-horsepower W 2200 first introduced in 2000.
Number of models: 1
Product-line features: Wirtgen's new optional belt scale for large milling machines provides continuous weight measurement of loaded material. The control system takes the continually measured speed of the belt into account, as well as the inclination angle of the belt scales and roadway. A printout from the provided printer provides date, time and tonnage.
Large Planer Gains Horsepower Boost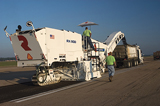 Available with three- of four-track assemblies, the Roadtec RX-900 cold planer offers four cutting-width options ranging from 86 inches up to the full-lane 150 inches. The machine's horsepower has been increased from 860 to 950, and bolt-on track pads are now standard. Micromilling and profiling drums are available. All mills from Roadtec are bi-directional so that the contractor can down-cut easily and rear-load for cold-in-place recycling.
Number of models: 1
Product-line features: Including the smallest RX-400 model just rolled out earlier this year, the entire four-model cold planer product line by Roadtec, an Astec Industries company, now offers optional folding conveyors for easier transport on standard trailers. Various cab options are available, including a new canopy for the full-lane-capable RX-900.