September 28, 2010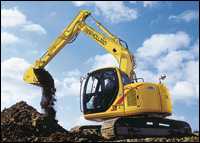 Reacts to Operator Input
The EH130 LC controls engine and hydraulic pumps, automatically tailoring response to the operator's lever movements. The system uses feedback from hydraulic pressure sensors, and an engine speed sensor. The engine automatically decelerates when appropriate and provides horsepower on demand with progressive rpm recovery. The manual default mode provides full performance for operations that require both maximum power and maximum speed, like heavy digging and loading.
Number of models: 2
Product-line features: The Breaker mode provides in-cab flow control for attachments like the corresponding Kobelco models. With only 9 inches of counterweight overhang, the EH130 LC can work within a 13 foot-8 inch width.
Computer Coordinates Power and Pumps
Doosan Daewoo improved its EPOS electronic controller for excavators in this size range. The system coordinates engine and hydraulic efforts to match the horsepower, hydraulic flow and operating pressure to the demands of each job. Upgraded electronics also simplify selection of work modes.
Number of models: 2
New models: Solar 140LC-V and 175LC-V
Product-line features: A hydraulic diagnostic system can be accessed via laptop to display work history as well as real-time performance data in graphed or numeric format. The system stores fault-code history in memory for later analysis.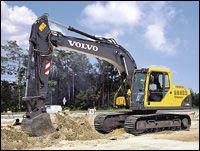 Engines Claim Top Fuel Economy
The turbocharged and intercooled, six-cylinder Volvo engine introduced with the B Series excavators is designed specifically for excavation work. "With high torque at low revs, it gives the lowest fuel consumption on the market," says Lars-Inge Larsson, Volvo's excavator product manager. The EC140B meets emissions limits with a turbocharged four-cylinder diesel. A heated, air-suspension seat and electronic cab-climate control keep the operator productive.
Number of models: 2
Product-line features: The standard auxiliary hydraulic circuit supplies one-way or two-way flow for use with a thumb, hammer or other powered attachments.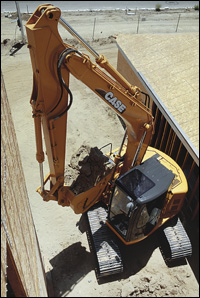 Works Within One Traffic Lane
The CX135 minimum-swing-radius excavator is able to work in confined spaces, such as a single lane of traffic. Case says the selectable cushion control on the boom and arm functions increase material retention while reducing shock loads.
Number of models: 3
New model: CX135
Product-line features: Auto work mode simplifies machine operation by automatically matching the boom, stick and swing priority to the task at hand. Bypass filtration, like the Nephron system of its LBX counterparts, protects Case hydraulic systems.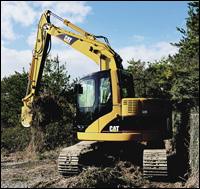 Largest with Offset Boom
A power-offset boom is available for the 314C CR (minimum-swing-radius model), giving it the ability to dig parallel with the edge of the tracks. Unlike the articulating boom, or swinging boom, which hinges at the base of the boom only, Cat's power offset boom is a custom option with two hinge points built into the boom. The 32,600-pound unit is one of the largest excavators with the capacity to excavate the entire width of the machine with walls parallel to its tracks. Cat's electronic-control system automatically selects boom and swing priority and delivers full engine power as needed.
Number of models: 4
Product-line features: Cat's Pin Grabber Plus hydraulic quick coupler for attachments is available from the factory throughout the 10- to 20-ton range, as are medium pressure circuits. These circuits increase machine compatibility with powered work tools that include tilting or rotating mechanisms.
Investments in Cab Silence
Komatsu installs a partition between the cab and engine compartment, an airtight valve compartment and viscous cab mounting to reduce noise levels in the cab. A hybrid oil filter with 25 percent of its media surface given over to microglass media, quadruples the hydraulic-oil-filter change interval to 1,000 hours.
Number of models: 4
Product-line features: Komatsu says it is the only excavator manufacturer that designs and produces all the major components for its own excavators. The company's variety of excavators in the 10- to 20-ton class includes two conventional machines, the PC120LC-6 and PC160LC-7 and two minimum-swing-radius machines, the PC138USLC-2 and PC158USLC-2.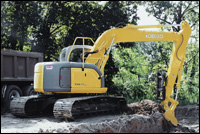 Just 5 Inches Wider Than Tracks
The counterweights on Kobelco's short-radius 115SRDZ and 135SRLC excavators never extend more than 5.1 inches beyond the tracks. Kobelco says its minimum-swing-radius Blade Runner ED150 will dig and