By Staff | September 28, 2010
Two Technologies Rolled into One Machine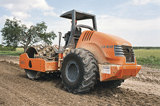 Wirtgen's Hamm Compaction Division introduced combination vibratory and oscillation compaction into a single roller, available in two sizes. At a drum width of 66 and 84 inches, respectively, the new 3412 VIO and 3307 VIO models combine the conventional vibration and the exclusive non-aggressive Hamm Oscillation compaction into a single drum, ideal for fast compaction above softer bases or other materials that could be disturbed or damaged by conventional vibration.
Number of models: 18
New models: 3412 VIO, 3307 VIO
Product-line features: A three-point articulation joint is unique to all Hamm 3000 Series compactors, allowing better traction in uneven terrain by keeping both the drum and rear axle on the ground, even during full turns. The use of a bottom knuckle pin and top stabilizer link allows complete oscillation at the center joint, regardless of the turning angle or surface conditions.
New Roller All About Compaction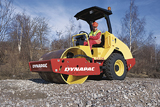 Compaction is not only the application for Dynapac's newest soil rollers, but the design, too. Built for compaction in tight spaces, the new self-propelled CA134 and CA144 models replace the former 121 and 141, respectively. With drum widths of 54 and 66 inches, both new soil compactors have a drum diameter of 39 inches. An overall width of less than 72 inches and length of 13 feet ensure easy transport.
Number of models: 20
New models: CA134D, CA134PD, CA144D, CA144PD
Product-line features: With new compactors, special applications may be achieved through configuration options. Each model has a choice of drum drives, a bolt-on pad shell option for the compaction of cohesive soils, and optional leveling blade.
New Brand, Established Product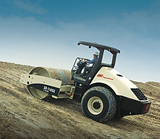 Volvo may be a new brand in the soil-compaction market, but its product line is tried, tested, and among the most extensive. As part of this spring's acquisition of Ingersoll Rand's construction-equipment business, Volvo Construction Equipment now offers 18 soil compactor models. Among its newest features, the product line launched the Comp Analyzer for the measurement, display and printing of compaction performance in real time.
Number of models: 18
Product-line features: For maximum productivity, variable frequency is a standard feature on Volvo's DX compactors that allows the operator to select the correct frequency for the job, based on the material being compacted. The newly offered packaging of popular options is designed to make configuration selection easier for customers throughout the extensive Volvo product line.
Price-Sensitive Customers Equally Served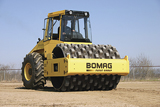 With new 12- and 13-ton-class machines on the market, Bomag is providing dual vibration frequencies and amplitudes for single-drum compaction customers ranging from the price-competitive rental house and entry-level contractor to the full-line road-building operation. Incorporated into their vibration-isolated operator platforms, the Bomag BW211-40 and BW213-40 Series machines offer improved sight to the rear, ensuring all-around visibility. Bomag also offers the Hypac brand of compactors to the North American market.
Number of models: 17
New models: BW211D-40, BW211PD-40, BW213D-40, BW213DH-40, BW213PDH-40
Product-line features: Both the new BW211-40 and BW213-40 Series can be ordered withthe optional padfoot or smooth-drum shell kits. Shell kits allow rollers to be converted from a smooth-drum to a padfoot configuration, and vice-versa, providing the versatility of two rollers in one.
Machines Suited for Slope Work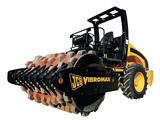 Ranging from 4.6 to 20 metric tons in both smooth and padfoot configurations, JCB's established two-speed VM Series single-drum vibratory rollers offer drum widths from 55 inches for the VM 46 model up to about 83 inches for the VM 200. A traction management system facilitates work on slopes, as does hydrostatic propulsion of the drum and wheels. Auto vibration control is standard on the JCB Vibromax machines.
Number of models: 12
Product-line features: The use of teflon impregnated sealed bearings on JCB's single-drum rollers means there is no daily greasing required. A grouped electrical panel and hydraulics test station provides centralized maintenance, and the forward-tilting engine enclosure provides cleaner access to the engine and hydraulics. 
Weight Balance Offers Versatility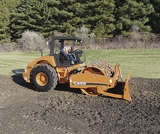 With four core model sizes available in both smooth and padfoot configurations, Case Construction Equipment's 200 Series single-drum vibratory rollers offer a drum width ranging from 66 inches on the SV208 to 87 inches on the SV216. Each of the models features dual vibration modes, adjustable amplitude and frequency, and centrifugal forces from 29,225 to 73,125 pounds to match a variety of soil and material conditions.
Number of models: 8
Product-line features: With a heavy-duty articulation and oscillation joint, the Case single-drum vibratory roller combines 36-degree articulation with the ability to compact over uneven surfaces with 12-degree oscillation. Gradeability is enhanced by a 60:40 weight balance between the front and rear. Large fuel tanks allow Case rollers to operate up to 36 hours between refills.
Company Takes Product Line Up in Size

In response to customer requests, the Rhino vibratory dirt roller offering fromStone Construction Equipment moved into a new market with the recent rollout of 84-inch models. Previously, the company went up to 66 inches with its soil-compactor line. Powered by 130-horsepower Cummins engines, the new 84X models feature dual amplitude with a choice of low or high compaction forces, up to 63,000 pounds. Operators utilize a four-in-one vibratory and directional control lever.
Number of models: 10
New models: Rhino SD84X, SD84XC
Product-line features: Stone's smaller 43- and 54-inch models include tires and drums matched for optimum compaction in any condition. The 66- and 84-inch models have a combination tractor/turf type tire that performs both with the smooth or padfoot configurations. While the smaller models feature a posi-traction system for maneuverability in confined spaces, the larger rollers feature no-spin axles for enhanced climbing.
Rammax Offers New Traction Control
The Multiquip product family offers three core sizes of compact single-drum ride-on rollers manufactured by Rammax, defined by drum widths of 35, 48 and 54 inches, and available in a variety of drum and blade configurations. The newest and largest padfoot model, the P54KA incorporates a new hydraulic concept with Poclain's Twin Lock traction control system, which provides flow division while automatically transferring torque to the wheels with the greatest ground adhesion.
Number of models: 14
New model: P54KA
Product-line features: A new frame design for the Multiquip Rammax single-drum ride-on compactor improves access to daily and routine service areas. The engine has been turned 180 degrees for better access to the hydraulic system.
Exclusive Systems Put to Use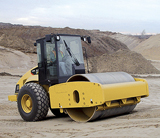 With operating weights ranging from 12.2 to 17.3 tons, the Caterpillar 500E-Series vibratory soil compactors feature the exclusive Cat dual pump propel system. This provides separate hydraulic flow to the rear wheels and drum for tractive effort in soft conditions and superior control on grade in forward and reverse. The patented Caterpillar eccentric weight system, with the two pod-style weight housings within the drum, eliminates heavy weights slamming together and wedging.
Number of models: 14
Product-line features: A large spread between high and low settings on the 500E-Series-standard dual amplitude makes it easier for the operator to adapt compactive effort to any changes in lift thickness, soil characteristics, and density requirements while maintaining performance.
Track-Driven Unit Tops Product Line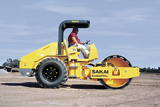 In addition to the 14 SV Series models ranging in drum width from 54 to 84 inches, the soil compactor product line of Sakai America is topped by a unique track-driven vibratory com-pactor — the 84-inch CV550 available in both a smooth and padfoot model. Dual amplitude and duel frequency, high centrifugal force output, shock isolation and a heavy-duty steering hitch design are staples of the Sakai product offering.
Number of models: 16
Product-line features: Along with an assortment of smooth, padfoot and combination models, Sakai soil compactor customers may also consider the strike-off blade option for increased application opportunities in various sizes. On all Sakai models, ROPS and seat belts are standard.