June 14, 2018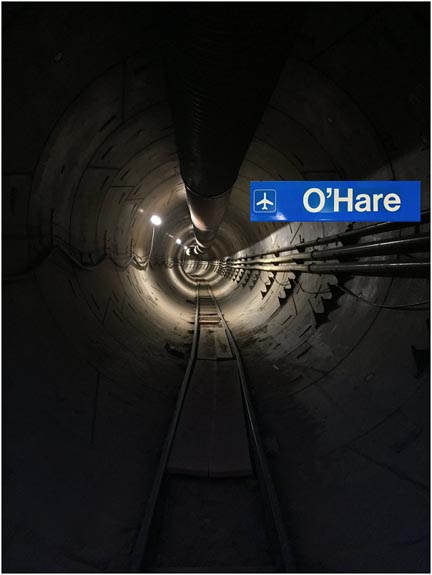 Elon Musk's The Boring Company has won the bid to build a high-speed express train to Chicago's O'Hare International Airport, according to Crain's Chicago Business.
Promising a transit time of about a quarter-hour from Block 37 on State Street in Chicago's Loop to O'Hare Airport, Musk's Boring Company got Mayor Rahm Emanuel's go-ahead to build and operate am underground  super-express transit system. Surface transportation time from Downtown Chicago to ORD currently vairies from one hour on the CTA to more than 1.5 hours by car. 
Like the loop Musk is building to LAX, the systems will be configured of  a pair of closed-loop tunnels that will use autonomous electric skate-pods to zip along through the 17-mile (as the crow flies) route at over 100-mph. Individual fares will be in the range of $25 each way.
The Musk proposal includes using the currently unused CTA  Block 37 Superstation constructed under Chicago's Loop that was intended to be a mass transit subway hub for express subway trains.
The Boring Company is financing what insiders say will be the $1 billion cost without any taxpayer subsidy.
Deputy Mayor Robert Rivkin said the city hopes to minimize land-use issues by tunneling under existing government owned right-of-way areas, but said that the city is prepared to use its powers of eminent domain if necessary.
The plan still needs local and federal approvals before construction can begin. Estimates are the super express service could begin operation in 2022. Former Chicao Deputy Mayor Steve Koch said, "This is a very smart way to dry to do something that we otherwise couldn't do." And if it's a roll of the dice, "it's a roll of somebody else's dice."