September 28, 2010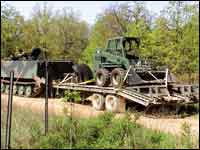 Earlier this year, Bobcat announced it had won a government contract to supply its skid-steer loaders to the U.S. Army. In January, it had delivered the first of 238 units. The contract is good for 5 years and has an initial order worth $7.24 million.
Sen. Bryon Dorgan, a member of the Senate Defense Appropriation Subcommittee, allocated funds for the Department of Defense to purchase skid-steer loaders. Prior to this contract, Bobcat said the Army units ordered to Central Asia after Sept. 11 were using their own day-to-day operating funds to buy Bobcat loaders because they were not standard-issue items.
According to Doug Freitag, VP sales and marketing for Bobcat, "successive orders will depend on annual funding, but the 5-year contract could result in orders for up to 1,000 units worth $25 million.