By G.C. Skipper, Contributing Editor | September 28, 2010
Kokosing Construction, AEMP's 2008 private-fleet Fleet Masters Award winner, has developed the company's recruiting and hiring program into a best practice by using a formalized, thoughtful and consistent approach.
Barth Burgett, vice president of equipment and support for the Ohio-based firm, was one of the first company executives to identify this potential stumbling block to the company's future growth.
"One day, I saw a valued employee and suddenly realized he was going to be retiring soon," says Burgett. "Then I saw another and another. The more I looked into it the more it became apparent this could grow into a major problem."
Burgett alerted top management.
"We were given the go-ahead to develop a comprehensive hiring program, and it wasn't long before company executives could see how important our new recruiting procedures were going to be for the company," he says.
Today, 10 years after the program was initiated, its importance to the company is recognized by top management.
"Recently, one of the vice presidents said, 'Don't even think about stopping the program,'" says Burgett.
The first step was to designate a part-time recruiter to work with high schools, community colleges and technical schools in the area.
"Our recruiter would make an appointment to go to a particular school and several of us would deliver a presentation to the students," says Burgett. "We used a general presentation to tell them about the types of opportunities that were available in the construction industry and then cover what careers are available at Kokosing specifically. Then we'd answer their questions. Those visits were so successful, we're still doing it."
If any of the students express interest in learning more about a career in construction, the recruiter arranges for the students to come to Kokosing for interviews.
"We schedule interviews in specific areas—diesel technician, equipment operator, carpentry, electrical, labor, welding, masonry, and paint and body." says Burgett. "We break everything out into trades."
Department managers participate in the interviews.
"Managers conduct the initial interview and bring the student in to see where he or she will be working," says Burgett. "The entire process from interview to placement takes about eight weeks. We give them plenty of time to think about it."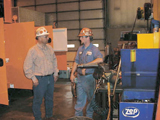 As a heavy industrial and highway construction company with a fleet of about 1,500 units, Kokosing offers ample room for career development.
Those students that look particularly promising are offered part-time and/or summer positions at the company.
"In the summer, we add more candidates because we need more help," he says. "That work could be something as simple as removing nails from lumber, unloading trucks, or cleaning up sites."
The company has also developed beneficial relationships with several technical schools in the area.
"Over the years, we've learned that specific technical schools seem to excel in specific trades," says Burgett. "One school might turn out excellent diesel mechanics, while another can be counted on for good body and paint candidates. But you can only get that information from working with the schools."
Following the initial orientation and training period, the recruiter and a personnel coordinator work with the students to match them with jobs.
"For example, if a jobsite needs three laborers and carpenters, the personnel coordinator considers students who have been working with the company for at least a year for the position," says Burgett.
One of the reasons for the high success rate is the fact that the company recognizes the fact that a student coming out of school could be interested in welding, and once on the job, might become interested in an entirely different career path.
The recruiting, hiring and training processes are time-consuming, but, according to Burgett, they are very successful.
"You have to find students with the right work ethics and a desire to learn," he says. "We try to be very selective. We want the best students we can find."
Once Kokosing identifies the individuals with the greatest potential, the company concentrates on getting them into the appropriate trade.
"Some stay here in the forming shop as carpenters or in the welding shop," he says. "Others go out into the field to become leaders in the company."
As a heavy industrial and highway construction company with a fleet of about 1,500 units, there is ample room for career development.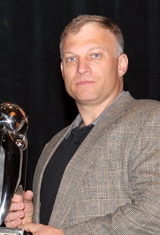 Barth Burgett
"We do our own maintenance, our own carpentry work and our own concrete forming work," says Burgett. "As we see it, our responsibility is to develop new employees who will help grow the company and who can grow with the company."
To date, the program has an impressive 60 percent to 70 percent success rate.
Burgett suggests these critical elements to a successful recruiting/hiring program:
Whether filling the simple jobs or scouting relentlessly to find the increasingly elusive diesel technician or equipment operator, use a formalized plan.
Secure the commitment of top management to the plan and assure they'll make the necessary investments in it.
Develop career plan to offer candidates.
Commit to helping recruits, once hired, to acquire the skills they need to become key employees within the company.