Staff | September 28, 2010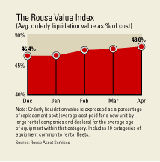 Values for used equipment across the major rental categories were up 1.0 percent in April, compared to March. They are up 3.1 percent from six months ago. Each of the top 10 rental-equipment category indexes posted value increases when compared to values for the previous month.
Skid-steer values are up 6.7 percent overthe past six months, posting a 3.7-percent increase in April.