September 28, 2010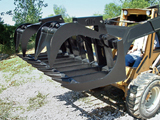 As part of a complete line of products for compact track and skid-steer loaders, AIM Attachments offers grapple rakes featuring a gusseted top clamp with guard-protected dual hydraulic cylinders. An all-new back-frame design also allows better clearance for hydraulic hoses. Attached via standard universal-style hookup and constructed of wear-resistant steel, AIM grapple rakes come in widths ranging from 60 to 84 inches.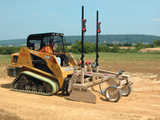 Doing its "Level Best" to facilitate the use of compact track loaders in delivering a smooth grade, ATI now offers a fully automatic Level Best grading box with dual controls. Grading to within one-eighth of an inch accuracy, be it in elevation and cross-slope applications, the dual Level Best product works with Apache, AGL, Laser Alignment and Topcon laser controls. The grading box is available in widths of 72, 84 and 96 inches.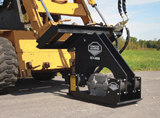 With seven models ranging 12 to 40 inches in cutting width, the new AP Pro Series of heavy-duty planer attachments from Coneqtec/Universal uses a true two-speed direct-drive motor that facilitates shifting from high speed to high torque with the flip of a switch. A patented open drum eliminates re-milling, and the front-down design and center pivot eliminates bouncing and reduces noise and dust. With the AP planers, which cut to a depth of 6 inches, spoil aggregate is not pulverized and available for recycling.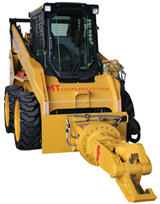 Expanding the processing capabilities of compact equipment, Allied-Gator's MT 5, MT 10 and MT 15 Multi-Tool models deliver increased shearing, cracking and crushing force with the patented Power-Link & Guide System. These three models range in weight from 700 to 2,700 pounds, generate 140, 206 and 315 tons of force, and are available in fully rotating and non-rotating models. Allied-Gator's patented Quick-Change jaw sets can be changed in the field in less than 15 minutes by the operator alone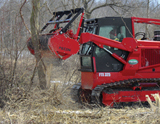 Bull Hog mulcher attachments from Fecon combine a patented rotor design with double carbide cutting teeth to process any size wood quickly into any texture. With their enhanced cutting capabilities, the teeth still carry a tool life up to 500 hours. The BH99HD mulcher model is shown at work with the FTX 325 track carrier. Other company products suitable for use on compact track loaders include bunching shears, stump grinders and rear grapples.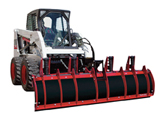 The reversible Fox 380 C-Plow by Hiniker combines conventional and back-drag plowing into a single design. Measuring 96 inches in width, the Fox is operated as a conventional plow in the forward plowing mode, with normal hydraulic angling and trip-edge functions. For back-dragging, the upper three-quarters of the moldboard is hydraulically folded over, creating a rear-facing blade.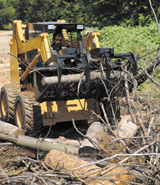 With the introduction of several new attachments available for use on any compact track or skid-steer-loader brand, Ingersoll Rand offers box blades, pallet forks, industrial grapples, and three compact bucket configurations. Six models of hydraulically controlled grapples are available to handle hard-to-handle or bulky, uneven loads. Two independent cylinders allow the user to grapple odd-shaped objects, while the inertia-welded cylinders and hydraulic cushioning provide consistent clamshell operation.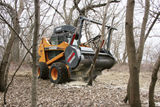 An updated brush shredder that mounts to compact equipment with a minimum of 48 hydraulic horsepower has been introduced by Loftness Specialized Equipment/US Attachments. The new Carbide Cutter G2 — or Generation 2 — mulches material six inches in diameter, with reserve capacity to handle larger material when needed. Like the original Carbide Cutter and the Timber Ax, the Carbide Cutter G2 continues the use of a shear bar in a contained cutting chamber to help process mulch with the lowest horsepower requirement.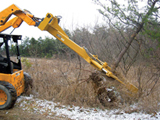 Designed to work like a lever, the patent-pending Tree Jack from Rockland Manufacturing is essentially a long beam attachment with a side clamp that grasps the base of the tree near the far end. Available for carriers rated at 65 horsepower and up, the attachment is able to effectively pull treesup to 12.5 inches in diameter, completely removing the tree and root structure in one step. The fulcrum is at the farthest point of the beam, resting on the ground. As the carrier's lift arms rise, the side clamp on the beam also rises, plucking the tree.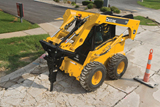 Among the Worksite Pro line of attachments for compact equipment, John Deere offers hydraulic breakers with a solid one-piece design eliminating the need for side bolts. The low-pressure, nitrogen-charged design cushions operators from recoil, while the narrow shape allows work in tight quarters. Instead of a high-pressure accumulator, Deere breakers employ hydraulics and a gas-assist cycle to develop force, resulting in high power-to-weight ratios. With few seals and moving parts, and no special tools needed, maintenance is simplified.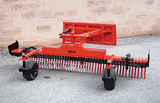 A landscape rake specifically designed by York Modern Corp. for use with compact loaders, the Model SSF may be set to push or pull as well as angle to discharge material either left or right with five working positions. With available rake models measuring 72, 84 and 96 inches in width, the push/pull floating frame is supplied with the proper mounting plate attached. Model SSF can also be equipped with optional caster wheels, grader blade, hydraulic angle and end boots.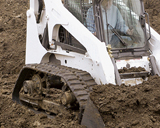 Bolting directly to the standard hubs of a compact wheeled machine, Loegering's Versatile Track System — or VTS — utilizes forward placement of the front idler wheel to maintain flotation and stability. By placing the front idler significantly ahead of the front hub position, VTS gains stability when digging and backing out of trenches, as well as hauling and dumping heavy loads. Adjusting independently from one side of the machineto the other, the bi-directional suspension automatically applies the tracks back to the surface.