September 28, 2010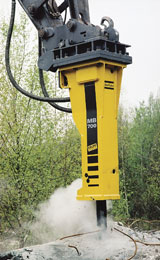 Attaching to 10- to 18-metric-ton excavators, the 1,650-pound Atlas Copco MB 700 hydraulic breaker is designed with only two moving parts, for reliability and limited maintenance. The MB 700 delivers up to 800 blows per minute, and requires hydraulic flow of up to 32 gallons per minute at 2,466 pounds per square inch. Along with the VibroSilenced damping system and ContiLube II automatic lubrication, the MB 700 features AutoStart, which allows it to operate as soon as it contacts target material.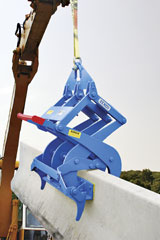 The Kenco barrier lift, available in various sizes for various carrier types, is used to safely place concrete median barriers, sound walls, curbing and piling. Elastomer pads ensure lifting performance even in wet weather. All Kenco barrier lift models are available with optional self-aligning guides that extend down from one set of the pads to allow the lifter to align itself with the barrier wall whenever the lifter is lowered into position.
Click here for more information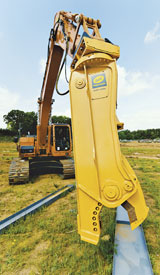 Among the six models of Geith precision steel shears is one small enough to be operated by a 15-metric-ton excavator. Geith SST shears combine jaw force with a hydraulic speed valve for a faster work cycle. An interchangeable nose blade ensures optimal piercing. Geith shears are designed for continuous 360-degree rotation, with an internal break to allow the operator to execute a precise cut at the right place and the right angle.
Click here for more information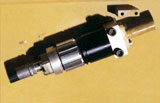 Designed to adapt to any new or existing excavator attachment, Snap-tite's trademarked QuikXchange hydraulic coupling system quickly connects lines to hammers/breakers, shears or crushers. With one person changing work-tool hydraulic lines in five minutes or less, the drybreak system is both connected easily under pressure and disconnects cleanly. Requiring 6,000 pounds per square inch of working pressure, the 1.25-inch, high-flow unit is available in three connection sizes.
Click here for more information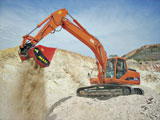 Available in 48 different models for use on excavators and wheel loaders of various sizes, the SM processing attachment from Allu scoops, screens and pulverizes in a single-step operation. A patented design of rotating drums with changeable hammers is able to screen and crush various materials simultaneously. The SM attachment mixes and aerates compost, crushes asphalt, and breaks down construction and demolition debris.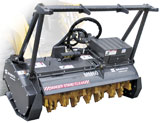 For use by various carrier types including excavators, Magnum Mulcher brush-cutter heads from Paladin's Bradco brand are available in five sizes ranging from 165 to 500 horsepower. The fixed-tooth cutter/mulcher head uses a patented hammer design. The attachments are configured to mount close to base machines with a low profile to both improve the operator's visibility to the work and balance the carrier for less damage to the site.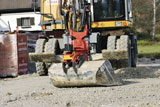 As an extension of the Oilmaxx coupler system introduced in 2008, Wimmer now introduces the Oilmaxx Tiltator. The Oilmaxx coupler is combined with a unit that rotates 360 degrees and swivels 40 degrees either way. Oilmaxx was designed in response to the market demand for an oil coupling function for Wimmer's W-Lock Beta coupling system, which became popular internationally due to its ability to turn buckets 180 degrees, for additional use as a shovel.
Click here for more information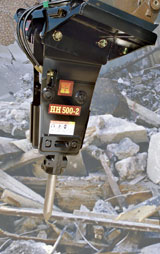 On top of highly-claimed power-to-weight ratios, Huskie Hydraulic Hammer's breaker product line offers users improved serviceability, thanks to a significant reduction in total parts. A modular design, says Huskie, makes every hammer in the 11-model line easy to maintain, and fully field-serviceable with no special tools. Most Huskie hammers have fewer than 40 total parts, and a typical rebuild is usually accomplished in two to three hours.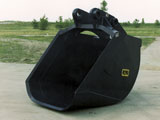 A "sand bucket" manufactured by Attachments International is available with a round or flat bottom, depending on application. The round bottom is recommended for pipeline and top-loading trucks, and the flat bottom is usually preferred for flat grade work. Constructed of high-strength alloy steel that facilitates the full power of the carrier, the bucket is designed for bulk sand, gravel, light soils, ash and loams. The manufacturer claims productivity can be increased up to 50 percent, and fuel costs decreased by 30 percent.
Click here for more information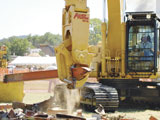 Featuring 360-degree continual rotation, Allied-Gator's patented Multi-Tools allow a single carrier to perform shearing, cracking and crushing tasks with equal effectiveness. Excavators in the 20,000- to 40,000-pound range can have their demolition and material-processing capabilities expanded with Multi-Tool models MTR 20 and MTR 40. Allied-Gator's patented quick-change shear and cracker/crusher jaw sets can be switched in the field in as little as 15 minutes.
Click here for more information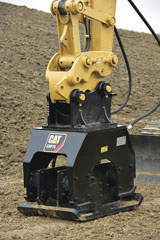 The Caterpillar CVP75 vibratory plate compactor is designed to work optimally with Caterpillar's small excavators, delivering 16,508 pounds of impact force at a rate of 2,200 impacts per minute. At a width of 29 inches, the 8.6-square-foot plate area handles compaction tasks in trenches or on slopes. Cat compactors are not only performance-matched to Caterpillar carriers, but integrate with the Cat hammer line. Brackets and hydraulic kits are fully interchangeable between hammer and compactor attachments.
Click here for more information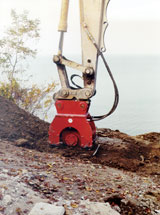 With large-size models HC30, HC40 and HC50 fitting 20,000- to 40,000-pound excavators, Hudco Manufacturing offers compactor attachments with standard or custom mountings to drive wood, steep sheeting and posts, as well as to compact soil in trench, foundation and slope applications. Custom compactor tops are a necessity, says Hudco, when using quick-attaching bucket mechanisms, and custom fitting eliminates the need for additional loose pins and bushings. Optional accessories include extended base plates, swivel tops, hydraulic valves and complete hydraulic installations.