September 28, 2010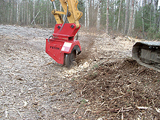 For reaching up and down slopes and other areas not easily reached by traditional stump-grinding equipment, Fecon offers the SH340 "Stump Hog" attachment. It has 90 cutting tools with large, thick carbide tips patterned for maximum cutting action while protecting the wheel and each other from wear and foreign materials. Measuring 33×4.5 inches, the Stump Hog's cutting wheel utilizes the Sandvik Dura Disk II stump-cutting system. The SH340 can accommodate up to 100 gallons per minute of hydraulicflow when powered by Fecon's self-contained power pack.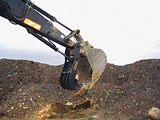 Direct-link hydraulic thumbs connect to a variety of excavator buckets and accommodate various tooth configurations. Boasting the ability to tuck tight to the stick when retracted,the thumbs will work with either pin-on or quick hitch-type buckets. Progressive link designs are also avail-able.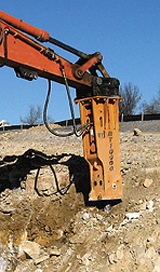 Along with a suspended, boxed-section, lightweight housing, Breaker Technology's BT Series hydraulic breakers have upper and lower shock-absorbing dampers to reduce noise and vibration. Other features include large-diameter, high-strength tie rods constructed from high-tensile steel; sealing system suited for long life in harsh environments; smooth piston finish and piston chamber; tight piston and valve tolerance for high efficiency; and a well-protected and easy-to-refill accumulator gas valve. Models are available in 10 sizes, ranging from the 550 to the 10,000 ft.-lb. class.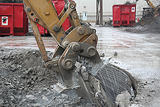 Evolved from a long line of mechanical pulverizers, Nye's new XCP2 Series heavy-duty concrete pulverizer attachments are designed to outperform conventional hydraulic units in both primary and secondary crushing operations. Hardened alloy pins and bushings combine with thicker steel for increased strength and durability. Replaceable AR500 crushing jaws are welded in, not pinned, so they cannot fall out and jam the crusher. Nye pulverizers require no extra hydraulics. Quick coupler and pin grabber models are also offered by the company.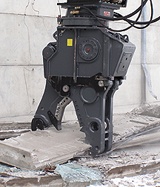 Described as an "all-rounder" three-in-one demolition tool, the Multi-Quick Processor is available in three sizes, for carriers ranging from 22 to 65 metric tons. Versatility of the MQP-30, 45 and 60 models comes through the use of three different jaws — a shear, pulverizer and combination — all built with exchangeable wear parts. All teeth and cutting blades are easily replaced on site. The Kinshofer processors come with the DSXpower cylinder, consisting of two pressure chambers providing up to 20-percent more power.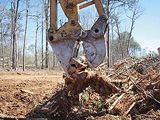 MWS wood shears from Stanley LaBounty were recently upgraded with stronger, more durable components to better withstand the rigors of land-clearing operations. The new design features a heavy-duty pivot group, as well as upgrades to the mounting pad and arm, and associated pins. The weld-in replaceable blade is made from abrasion-resistant, high-strength steel for long life and edge durability. Using the existing bucket cylinder and linkage, the shears have no need for additional hydraulic circuits. A key benefit is the ability to not only reduce the size of stumps/logs, but also to remove much of the dirt and rocks. The shears come in two sizes.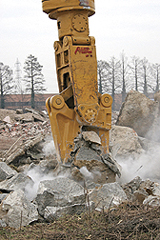 The MTR 40, 50 and 70 can expand the processing capabilities of any 30- to 40- ton excavator model. Ranging in weight from 7,000 to 12,500 pounds, these Multi-Tools, respectively, generate 685, 860 and 1,043 tons of force for shearing, cracking and crushing. Transition from structural steel processing to concrete reduction is simple with Quick-Change jaw sets, switched in the field in as few as 15 minutes. The MT Shear Jaw Set is designed for the processing of heavy structural steel and scrap metal, offering weld-on, interchangeable, solid and disposable shear tips. The MT Cracker/Crusher Jaw Set processes reinforced concrete and heavy cast materials.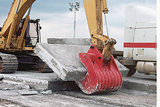 Available for use either as a direct pin-on attachment or in conjunction with the Kenco Wedgebolt coupler system, the Slab Crab bucket turns the removal of concrete slabs and bridge decks into a one-person job. The contractor simply saw cuts the concrete into manageable slabs, and then uses the excavator to pick the pieces up and load them directly onto the truck bed. Kenco makes the Slab Crab for carriers ranging up to 150,000 pounds to accommodate slabs ranging in thickness up to 29 inches. Other products for excavators in the 30- to 40-ton range include pulverizers.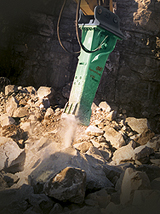 Tramac heavy range hydraulic breakers utilize patented variable-speed technology that senses changes in material hardness and automatically adjusts to the optimum combination of impact energy and striking rate. This maximizes productivity while reducing potentially damaging energy transferred back to the excavator. A progressive start system creates a small niche in the material, preventing the Ingersoll Rand Tramac breaker from sliding by applying the first few blows with low energy before full power is applied. An automatic lubrication system ensures the breaker is constantly lubricated for optimal functionality.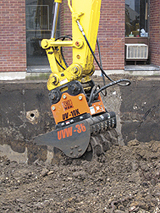 The boom-mounted Universal Vibratory Platform utilizes a patent-pending advance in compression isolation design. Heavy-duty compression mounts isolate higher-amplitude vibration between the boom and compactor under relatively low down pressure. As up or down pressure increases, independent secondary isolation systems are engaged. These systems distribute increasing static load over comparatively huge surface areas, effectively isolating the boom yet minimizing additional deflection in the combined isolation system. The platform can be fitted with an assortment of vibratory wheels or vibratory plates, depending on the soil type and work area constraints.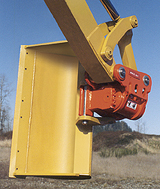 PowerTilt swing attachments from Helac allow excavator operators to simply tilt the tool instead of repositioning the entire unit. To improve a machine's versatility, PowerTilt can be used with a variety of attachments, including wide or narrow buckets, hydraulic hammers, rippers and brush cutters. PowerTilt provides up to 90-degree left and right bucket swing for a full 180-degree total side-to-side swing capability. Available for excavators up to 35 metric tons, PowerTilt comes standard with a pin-on coupler, and is compatible with OEM-specification buckets and other attachments.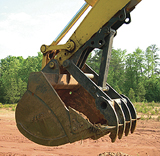 With universal mounting allowing installation on excavators up to 40 tons, ESCO's new rigid-style thumb is an economical option to hydraulic thumb models. And, in comparison to the previous ESCO thumb design, the new rigid model provides superior strength in key areas such as the strut and tines, but with only a minimal increase in weight. T1 plate is used in all critical component areas, including times and mounting base arms. The thumb's four-tine design allows it to mesh with standard bucket widths in each weight class. The independent thumb does not interfere with the bucket lugs or coupler, so attachment changes are quick and easy. Staggered, serrated teeth provide a continuous bite across the width of the thumb, and curved tines provide grip when working with varying-sized items. Three working positions allow for maximum movement.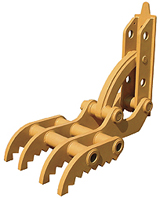 AIM's new HDT34 universal excavator thumb incorporates an AR400 steel structure built for a tight fit on any bucket. For excavators in the 60,000- to 80,000-pound market, the thumb measures 34 inches in width and 63 inches in length. Standard features of the HDT34 (shown) include three working positions, oversized steel pins, and AR400 steel tines with serrated edges. AIM also offers excavator grapples for excavators ranging 25,000 to 100,000 pounds, available in standard widths of 36, 42 and 48 inches. Excavator grapples feature five solid AR 400 steel tines and three working positions for durability and versatility in demolition, recycling, excavation and salvage operations. High-capacity models are also available, coming in 54- and 60-inch widths.
Danuser leveraged 60-plus years of auger design and manufacturing experience with the launch this decade of a hydraulic earth auger product line. Designing drive units and auger systems for today's heavy-duty carriers, Danuser's high-pressure drive units start out at 1,500 psi and can handle up to 5,000 psi. With hydraulic flow rate also a concern for excavator operators, the high-pressure drive units accommodate anywhere from 25 to 60 gallons per minute. Danuser uses Auburn gearboxes, which utilize a bearing nut for greater output and retention compared to a snap ring. Additionally, a variety of mounting methods are available for the Danuser attachments.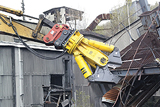 With an operating pressure of 5,100 psi and a design that combines high breaking force and short cycle times, the CC 3300 demolition attachment meets the requirements of carriers in the 30- to 50-metric-ton range. Both universal jaws and steel-cutting jaws are available. The universal configuration opens 40 inches wide and delivers 441 tons of cutting force. The steel-cutting jaw opens 17 inches wide, also providing 441 tons of cutting force for steel structure demolition, secondary reduction and material separation. The jaws are mounted on one central bearing pin for improved stability and faster replacement.

The Ajusta-Buckets brand lives up to its name with quick-coupler products that allow most buckets to be attached in the reverse position, thus facilitating a front shovel position. Compatible with standard OEM buckets, the quick-couplers also feature lifting hooks for most applications to increase on-the-job versatility. A brand of Seaway Industrial Products, Ajusta-Buckets will make standard and custom couplers, and the company's original manual "snap-lock" latching mechanism is available in all sizes. Hydraulic-powered latches are available, and they can be used manually when hydraulic systems are down.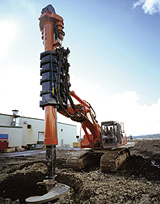 To meet the needs of powerline contractors and other crews requiring a high-torque drilling attachment, Bay Shore Systems offers the LoDril DH Series. Consisting of the DH-60, DH-84 and DH-100 models with 62,000, 84,000 and 110,000 ft.-lbs. of torque, respectively, these LoDril models are suited for customers who require a low-clearance rig with the power to both turn a large-diameter auger in tough soil conditions and drill it down deep into the ground. Since 1978, Bay Shore Systems has specialized in the manufacture of drilling equipment for challenging site conditions.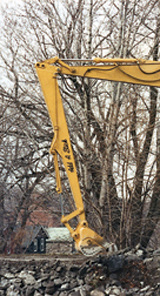 Hydraulic excavators can gain an additional 8 to 26 feet of reach with the installation of the Add-A-Stick. For use on machines weighing 30,000 pounds and up in applications ranging from EPA cleanup work to dredging, the Add-A-Stick has been successfully installed on all major excavator brands, according to manufacturer L & G Products. For smaller arm extensions, L & G also offers the Add-A-Boot in lengths ranging from 4 to 8 feet.