September 28, 2010
ASV
CEAttachments
Toro
Bobcat
Caterpillar
John Deere

 
While dedicated trenching contractors will stick to dedicated trenching machines, particularly at the larger end, there is also an industry demand for trenching attachments on smaller machines: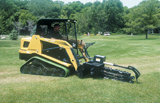 With their low ground pressure and rubber tracks, ASV's most compact track loaders can be equipped with a hydraulic chain trencher for the installation of underground wiring and gas services with minimal or no damage to surrounding turf. The 512-pound trencher attachment on the ASV RC-30 (now the PT-30) offers a trench width of 4 inches to a maximum depth of 30 inches. The chain trencher uses a single-side auger discharge.
Click here for more information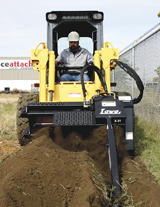 Trenchers offered by CEAttachments feature a 50,000-pound digging chain, self-aligning boom, sealed tapered roller bearings, and a removable double-flighted spoil auger. Manual side shift is standard on the Lowe Manufacturing-produced trenchers distributed by CEAttachments. Hydraulic side shift is optional, and various digging chains are available for trenching in conditions ranging from loose soil to hard rock. Operating on hydraulic flow ranging 8 to 40-plus gallons per minute, trenchers offer 24 to 60 inches of depth and 4 to 12 inches of width.
Click here for more information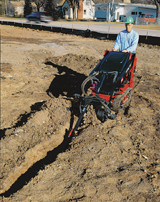 The line of trencher attachments for Toro's Dingo compact utility loaders features two unique models. For fast, efficient trenching in soft to medium soil conditions, the high-speed model delivers auger speed of 187 rotations per minute at a hydraulic flow of 11 gallons per minute and 442 foot-pounds of torque at 3,000 pounds per square inch of pressure. Producing an auger speed of 120 rpm, the high-torque trencher (675 foot-pounds) features a heavy-duty drive system.
Click here for more information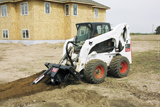 With digging depths ranging from 24 to 60 inches, Bobcat offers eight trencher attachment models specifically for use with the company's mini track loaders, skid steer loaders, compact track loaders, all-wheel-steer loaders, compact excavators and utility work machines. Hydraulic side-shift capability enables the Bobcat attachments to trench close to a building or fence. With the removal of the auger, the trencher attachments can work even closer to an obstacle.
Click here for more information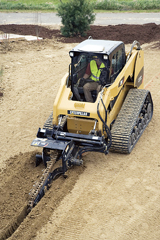 With three model sizes for use on the company's skid steer and multi terrain loaders, Caterpillar trencher attachments are available from the factory with the chain installed in a choice of 21 different chain type and width configurations. As with the mid-sized T9B model, the newest and smallest T6B model works with standard flow hydraulics. For working near structures, the T6B has optional manual or hydraulic side shift, up to a maximum 22 inches to the right of center.
Click here for more information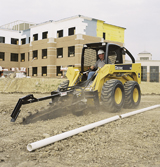 A built-in skid shoe provides proper auger depth control for each of John Deere's three compact trencher attachments, which are also equipped with indicators for proper digging control. As part of Deere's Worksite Pro attachment lineup, the skid steer attachments come in boom lengths of 36, 48 and 60 inches, each offering a standard trench width of 6 inches. A spring-loaded boom reduces shock loads on the hydraulic motor and skid steer. The standard heavy-duty crumber assists with loose soil removal, while a replaceable spoil auger will mound the spoil to one side.