September 28, 2010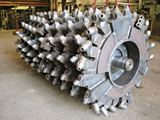 A supplier of asphalt milling drums such as this, JR's Welding is being acquired by mainline equipment manufacturer Astec Industries.
Asphalt milling drum supplier JR's Welding is joining the family of one of the major OEMs that it has traditionally served.
Multi-line, multi-brand equipment manufacturer Astec Industries announced Aug. 7 that it has entered into a definitive agreement to acquire the assets and key personnel of JR's Welding, of Norwalk, Ohio. Incorporated in 1998, JR's Welding supplies the asphalt milling industry with proprietary wear components.
JR's Welding will relocate to Astec's base in Chattanooga, Tenn., as will company leaders Jeff Rule and Jeff Rule Jr. The transaction is expected to close this quarter.
"As an addition to our existing Roadtec equipment rebuild program, this will allow Roadtec to further our efforts in competitive rebuilds of milling drums," says Jeff Richmond, president of Astec's Roadtec company.
JR's Welding has been a supplier to both Roadtec and competitive makes of milling machines.