September 28, 2010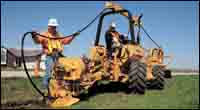 Astec Industries and Case Construction Equipment have formed a strategic alliance that gives Astec access to Case's dealer network and Case a manufacturer for its existing trencher and HDD lines.
Case gains a broader line of underground offerings, as well. "We'll not only continue selling our outstanding underground machines, but also be able to offer state-of-the-art trenchers and HDD units from the Astec Underground Group," says Jim McCullough, senior vice president for North American construction equipment brands with CNH Global.
Astec will produce Case's eight trenchers, three horizontal directional drills, HDD fluid-mixing systems and downhole tools.
Selected Astec trenchers and HDD units—under the Trencor and American Augers brands—will be distributed under an exclusive agreement through Case dealers.
The alliance gives Astec a comprehensive distribution network. "It will allow us to expand our business through the well-established Case dealer network," says Dr. J. Don Brock, chairman and CEO of Astec Industries. Trencor and American Augers traditionally has sold direct to end-users.
The alliance also expands Case's product support opportunities as owners of Trencor- and American Augers-branded machines can turn to Case for service support.
Case products to be manufactured by Astec are: Trenchers—walk-behind 60, Maxi-Sneaker cable plow, TF300B, 360, 460, 560, 660 and 960; and HDD—6010 Turbo, 6030 Turbo, and skid-steer-mounted 300CM.
Specific Trencor and American Augers models involved in the alignment have yet to be determined.