September 28, 2010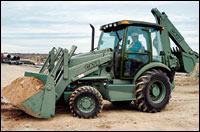 Case Construction Equipment has received multiple contracts from the United States military, totaling more than $86 million.
The first is a five-year contract, valued at about $50 million, to supply more than 500 High Mobility Engineer Excavator (HMEE) Type III backhoe-loaders to the U.S. Army. The 14-foot machines will be customized to meet Army requirements, and delivery will start in 2006.
The company has also been awarded several other military contracts valued at more than $36 million. These contracts include the remanufacture of 400 Case MW24C wheel loaders, the refurbishing of 100 MW24C wheel loaders, and the repowering of 500 M4K forklifts.